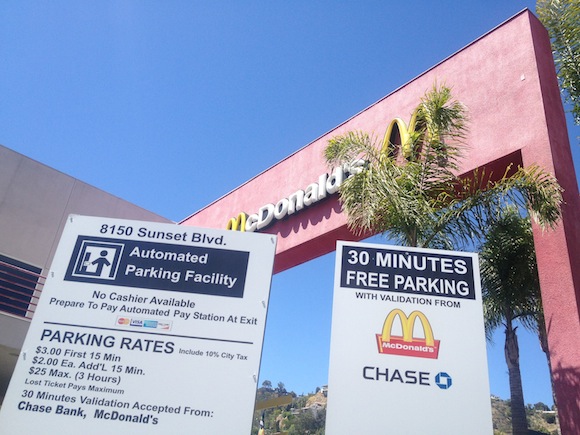 In a victory for some of Suncrest Plaza's commercial tenants, parking is once again free at the strip mall.
The city of Los Angeles on May 31 issued an order to the landlord of the property, located at 8128-8178 W. Sunset Blvd. at Crescent Heights, to "discontinue the use of all parking control island stations with gated ticket dispensers and return parking lot to original previously approved condition."
A group of tenants at the plaza on the edge of West Hollywood filed a lawsuit in April against the owners of the 45,000-square-foot property claiming new parking fees established by the landlord were part of a plan to put them out of business and make room for a residential or mixed-use project. Townscape Partners bought the strip mall last year and in March started charging customers $3 per 15 minutes for parking. 
In October 2012, the Los Angeles Department of Building and Safety (LADBS) issued a permit for "parking control islands stations with gated ticket dispensers and to restripe portion of the parking lot."
Orrin Feldman of the Hollywood Hills West Neighborhood Council says the problem is that, based on the property's conditional use permit, such a change was required to go to the city's planning department. This is because the property has fewer parking spaces than would otherwise have been required, Feldman says, so it had to have a "mobility plan" for parking—with changes required to go through the planning department.
The May 31 order from the city indicates that the building permit from the building and safety department was "issued in error."
"Since that time, the landlord has no longer operated the parking gates, and has not been able to charge for parking. This has certainly helped my clients restore some of their lost business," wrote Jack L. Henningsen of Turner, Aubert & Friedman, LLP in an email. "However, the landlord has also not removed the parking system, including the signs which erroneously indicate they can charge for parking."
Businesses initially included in the lawsuit (Subway, El Pollo Loco, a dry cleaners and a spa) said the parking fees cut their business in half. According to Henningsen, one of the businesses has settled with the landlord and there are "ongoing discussions" with another.
"In the very near future, we will be making a motion to the Court to amend our complaint to add new business tort claims against the landlord and ask for punitive damages," he said via email.
Principals of Suncrest landlord "AG-SCH 8150 Sunset" are Adam Schwartz and Michael Gordon, who are also principals in Angelo Gordon. Angelo Gordon is Townscape's partner in Beverly Boulevard Associates, the owner and developer of the 8899 Beverly Blvd. project.