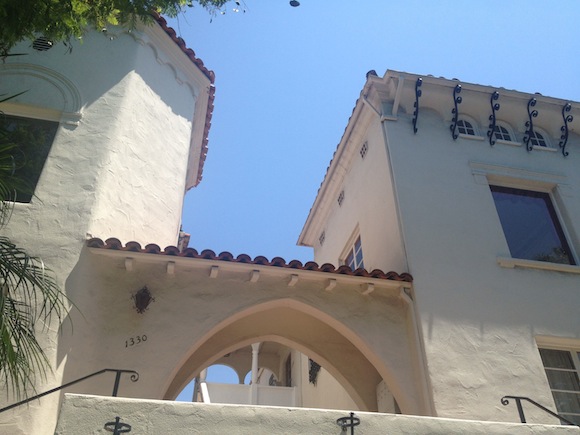 The owner of El Pasadero, a landmark Spanish Colonial Revival building in West Hollywood's Harper Historic District, is evicting its residents.
Residents of the 15-unit building, at 1330 Harper Ave. at De Longpre, were notified on May 7 that they would have to leave according to Elizabeth Savage, West Hollywood's rent stabilization manager. Neighbors say they have seen moving vans outside the building.
The eviction is being carried out by Jerome Nash, the controversial owner of El Mirador, another landmark apartment building at the corner of Sweetzer and Fountain that has been empty since 2010. Nash evicted residents of that 32-unit building after fights with the City of West Hollywood over his proposals to renovate the building and convert it to condominiums or a hotel. That eviction and the one at El Pasadero are authorized by a law known as the Ellis Act, which bars local governments from requiring apartment building owners to rent their apartments.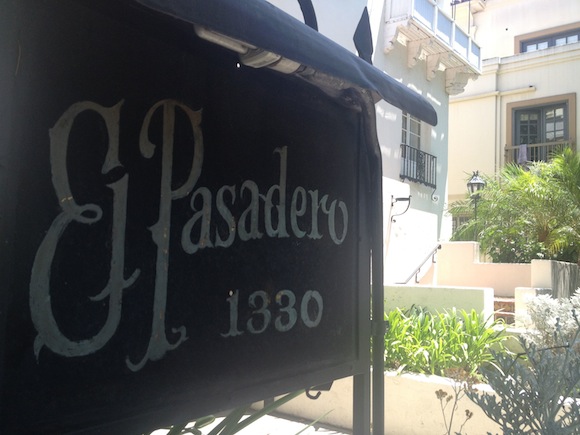 Nash recently was hired to manage and renovate El Pasadero by Schaefer Funds, owner of the building, which was built in 1931. Current tenants said the building had fallen into disrepair under the previous landlord, Sandra Carradine, an actress who formerly was married to Keith Carradine. Schaefer Funds, which gave Carradine a mortgage on the building, took control of it last year after she defaulted.
Nash said a conflict with two building residents prompted Schaefer to evict them all. He would not elaborate on the conflict, but one long-time El Pasadero resident, who requested anonymity, said confrontations between tenants and the building's owner had "escalated to a war."
"I'm not defending Jerome," said the 10-year resident, "But if I were him I would have done the same thing, walked away from it, because you can't evict people easily in West Hollywood. You have to commit murder."
"She bought the building and didn't have money for the maintenance," said the long-term tenant of Carradine.  "She didn't take care of a lot of things. Then you have someone like Jerome come in, with the reputation that precedes him, so people became defensive. Certain tenants took it way too far."
"It's unfortunate because it's such a beautiful building and beautiful block," said the tenant. "To now have two empty buildings a block across from each other, that's sad."
Nash, who variously has proposed converting El Mirador to condominiums or a hotel, said Schaefer is not considering a condominium conversion for El Pasadero. An urban inn is one possibility, he said, stressing that the owners had "not engaged in anything yet." Nash's proposal to convert El Mirador to a hotel drew opposition from some council members, who noted the residential nature of the neighborhood.  Hotels are clustered along Sunset Boulevard well to the north of El Mirador and have been the source of many complaints about noise from residents of apartments just south of them.
Frances Drooz, 88, who owned the building before Carradine, was shocked when WEHOville informed her of the evictions, "Oh my God," she said. "See what money will do to you?"
The Ellis Act, which permits the mass eviction of tenants, was enacted in 1985 as a result of a lawsuit by Nash challenging a Santa Monica ordinance designed to preserve rental housing.
According to the lawsuit, Nash became "disenchanted … with operating rental housing" in the city.
The Ellis Act stipulates that building owners must grant tenants the right to return at the previous rent level if apartments are offered for rent within five years of the eviction.
That offers little solace to older residents of El Pasadero, many of whom live on fixed incomes.
"I'm very sad because I'm on a fixed income, and I won't be able to afford anything close to this," said Vinny Argiro, who lives in a two-bedroom unit. "Because West Hollywood is rent controlled it's the only reason I could live here. I'm 73 years old, and I'm not going to get any more income than I'm getting. I'm probably going to end up in a one bedroom or studio."
Argiro, who has lived at El Pasadero for nearly 40 years, moved to West Hollywood in 1966. He owned Mike Bain, a men's clothing store on Sunset Boulevard and La Cienega, and then took up acting, appearing in movies such as "Mars Attacks!" and "Risky Business," and TV shows such as "NYPD Blue," "Star Trek: The Next Generation" and "Who's The Boss?"
Argiro qualifies for subsidized rental housing for low-income people, for which there is a long waiting list in West Hollywood.  He hopes he will be chosen in a lottery to live in one of three new housing projects under construction along La Brea Avenue, each of which include low-income housing units.
"They'll probably get triple for this," Argiro of his apartment.
As required by law, El Pasadero residents have 120 days to move. If they are elderly (62 or older) or disabled, they may remain for up to one year. Nash said four residents meet the one-year requirement but that Schaefer Funds has honored the request of "virtually everyone" who has asked for a full year to relocate
El Pasadero, built in 1931 and designed by Jason and Irene Reese in the Spanish Revival tradition, is part of the city's Harper Avenue National Register District, which contains a high concentration of landmark 1920s Spanish Revival and Art Deco apartment buildings by noted architects such as Leland Bryant.
The area was originally created to attract stars from the early motion picture industry and has been home to many celebrities, including Frank Sinatra, John Wayne, Katharine Hepburn, James Dean and Norma Talmadge.
The district, designated in 1992, includes six buildings on Harper Avenue as well as Patio del Moro and Four Gables on Fountain Avenue.
Update: A previous version of this story used a quote attributed to Nash during his 1985 lawsuit against Santa Monica. WEHOville has learned that a lawyer representing Nash later claimed he authored the quote, and that it should not be attributed to Nash.