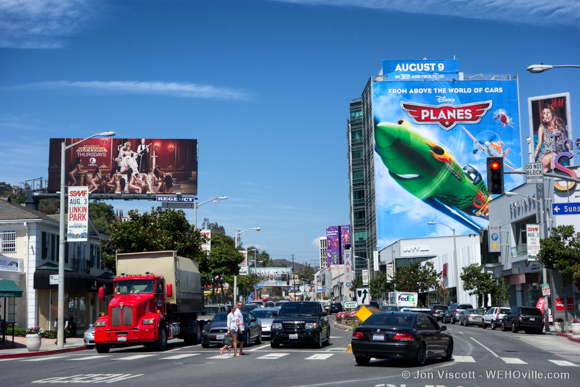 Apparently what doesn't fly in Los Angeles soars on WeHo's Sunset Strip — and no, we're not referring to the above ad for Disney's "Planes."
A billboard that would make Anthony Weiner blush is currently lording over the Sunset Strip and its (always upstanding) visitors.
The ad, featured in the middle of Sunset Plaza promoting the 12th season of Project Runway, from agency Ignition Print in Santa Monica, shows supermodel Heidi Klum and fashion consultant Tim Gunn holding court (18th century style) over a bunch of nude models. Get the "full Monty" below.
The ad, which has been up for a few weeks, was too obscene for the city of Los Angeles, which prohibited Lifetime's efforts to erect it within city limits.
According to one report, the cable network planned to Photoshop in some clothes to appease the LA Department of Building and Safety — but then WeHo happened.
We here at WEHOville — firm believers in free speech, save for Brandi Glanville on Twitter — nearly plowed our vehicle into the median the other day. The orgy above us may have had something do with it.
Really though, we just want to know what Roxy owner and part-time billboard policeman Nic Adler thinks about the latest risqué ad to find a home in WeHo, and near his farmer's market.
In May, Adler's Tweet helped take down a billboard featuring a photo of a woman breastfeeding a child while promoting CougarLife.com, a website for women interested in younger men. A thought balloon showed the baby asking "jealous?"
The ad was featured in the parking lot on Sunset Boulevard that hosts the Thursday Farmers Market, which Adler helps organize.
Furthermore, calls to WeHo's clothing-optional men's resort, the San Vicente Inn, requesting comment were not immediately returned.