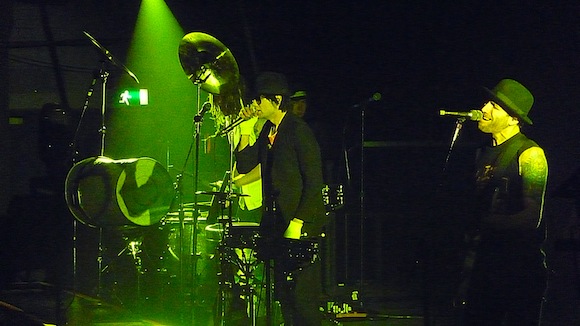 Trust us, this is nothing like Broadway's "Stomp." The Street Drum Corps offers a percussive experience that will stimulate your eyes as much as your ears. This booming ensemble has created a hybrid of rock and tribal-style drumming since forming in 2004. SDC's members continue to multiply like drenched Mogwai, and they're still on the hunt for a few more good bangers.
Street Drum Corps has been honored with kicking off the outdoor concert series this Saturday at the Sunset Strip Music Festival. Core member, Bobby Alt, explains how the group formed, how its movement continues to grow and what to expect from this weekend.
Question: How was the Street Drum Corps created?
Answer: "Myself (Bobby Alt), my brother Adam Alt and Frank Zummo are the creators and founders of Street Drum Corps. We started the group nine years ago using found objects, garbage cans, fire extinguishers, big oil drums, beer kegs, industrial tools, etc. Now we use DW Drums, electronic instruments, guitar players, back-up singers and a traditional drum set. It was sort of a side project gone wild."
Q: Are you international at this point?
A: "The Street Drum Corps has toured over 20 countries. We did a huge UK European tour with Thirty Seconds To Mars in 2010. We love touring, it's our passion. We love being in our tour buses in our bunks playing festivals."
Q: How many of you fit on a tour bus?
A: "We have a 12-person cast in our Las Vegas production right now, at the Vinyl Club at the Hard Rock Casino. We play once a month for six months. On a bus 12 people can sleep comfortably."
Q: Are you all over the United States?
A: "We actually have an East Coast Street Drum Corps and you can see them every fall in a show called Blood Drums where we specialize in theme park entertainment and bookings. From California to Dorney Park we have over 40 drummers in the US alone. It's nice to give these drummers an opportunity to work, there's a lot of people out there like us. Drummers will send us their video or resume and if they're the best, we'll hire them for the job."
Q: How did you get involved with SDC?
A: "I was coming out of a band break-up, my group S.T.U.N. (Scream Toward the Uprising of Non-Conformity), and we'd put out a record. Touring the world, gone to Japan and back three times, things were picking up. When that band broke-up, I didn't want to jump into another band at that time. I wanted to start something with my brother and Frank. It's a show for the whole family."
Q: Do you incorporate all drum styles into your show?
A: "All styles. We're all punk, rock, industrial, blues-based drummers. Our show is heavily based on rock groups and tribal jams but we have some Latin styles, reggae and dance beats. We're about to write a new record this fall and we want to learn new rhythms and time signatures, so we can pull from different styles to keep it interesting and challenge ourselves."
Q: What is the name of your latest release?
A: "The brand new one out now is called 'Children of the Drum' and you can get that on iTunes and Spotify.
Q: What is SDC doing for the Sunset Strip Music Festival?
A: "We are bringing a big beast of a show, our Lost Vegas production that we've been doing in Vegas. Adrian Young from No Doubt will be joining us. We'll bring our stilt walkers and dancers. On our fan page we are offering a $75 package for the SSMF. You get a t-shirt and can stand on the side of the stage with us painted in our war paint; a meet and greet, get up close and personal."
Q: What does this performance mean to you?
A: "I've been playing in L.A. and Hollywood for over a decade now. All these clubs, The Roxy, The Viper, The Whisky, so for them to give us this slot, it means so much to us as a working group. Nic Adler, I got a call from him. He said, 'I couldn't imagine a better band kicking off this entire festival than the Street Drum Corps and we want you guys to bring the biggest show that you have.' So we're bringing it."