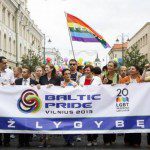 While West Hollywood City Councilmember John Duran and WeHo bar owners stood in front of TV cameras this morning, pouring water from Stolichnaya bottles into the gutter to protest anti-gay laws in Russia TV, an LGBT advocacy group in Latvia, where the vodka is really manufactured, was asking the protestors to back off.
In a public statement, MOZAIKA, a group of LGBT activists and friends based in Riga, the capital of Latvia, said: "The international society should act and react in regards to grave violations of human rights in Russia and elsewhere. However it is essential to do careful research before every action to make sure it reaches the addressee of the campaign.
"We would like to draw your attention to the 'Dump Stoli! Dump Russian Vodka!' campaign, which is aimed at the Stolichnaya vodka brand. Stolichnaya vodka is not produced in Russia, and it is misleading to say that it is a Russian product. All Stolichnaya vodka for worldwide export is produced in Latvia. Stolichnaya is produced by the Latvian company Latvijas Balzams, and production takes place in Riga, the capital of Latvia.
"As you know, Latvia was under Soviet occupation for over 50 years, therefore we are still very often mistakenly considered to be a part of Russia. Latvia is a proud member of the European Union and is striving to be an open, democratic country.
"We would kindly ask you to reconsider your actions in regards to 'Dump Stoli! Dump Russian Vodka!' as this campaign will only harm Latvia, Latvia's economy and employees of the company Latvijas Balzams. It could also backfire and have unintended negative consequences for the extremely fragile LGBT community in Latvia."
"… The company employs people in Latvia, and our much-weakened economy will suffer if the boycott continues," the statement said. "For a small country like Latvia, Stolichnaya is a very important export product and has nothing to do with the anti-LGBT activities in neighbouring Russia."
MOZAIKA also said it was concerned the "Dump Stoli" protest would hurt its efforts in 2015 to put on the largest LGBT event in Central and Eastern Europe. " Taking into account the values and strategies of SPI Group worldwide, we will be inviting them to cooperate closely," the organization said, referring to the owner of the Stoli brand. "This boycott campaign targeting Stolichnaya vodka will heavily impact any future possibilities to cooperate with SPI Group and Latvijas Balzams, as well as with other local companies."
The "Dump Stoli" campaign was launched by Dan Savage, the Seattle gay columnist and activist, and quickly embraced by gay rights activists across the United States. Among them were WeHo council members Duran and John D'Amico, who issued a press release in support of the Stoli gutter pouring but did not attend it.
The Stoli brand's connection with Russia is complex. It is owned by SPI Group, which is headquartered in Luxembourg, the official headquarters of many European companies because of the tax advantages Luxembourg offers to businesses that actually maintain their working headquarters elsewhere. SPI has a large office in Moscow. Its interests in Russia include Raduga (Russian for "rainbow"), the company's agricultural arm, which farms more than 9,000 acres of wheat and barley, much of it used in the distillation of the various alcoholic beverages marketed by SPI. SPI owns three vodka distilleries. In addition to the one in Riga, there is a distillery in Perm, a city in Eastern Russia whose sister city is Louisville, KY. Another is in Tambov, another Eastern Russian city, whose sister city is Terre Haute, IN.
SPI was created by Yuri Shefler, who in 1997 struck a deal to buy a business in Russia that owned the brand names of a number of Russian alcoholic beverages, one of them being Stolichnaya vodka. Under the old Soviet Union, those brands had been owned by a Russian government entity and SPI has been involved in lawsuits with Russian entities over who actually owns the brand.