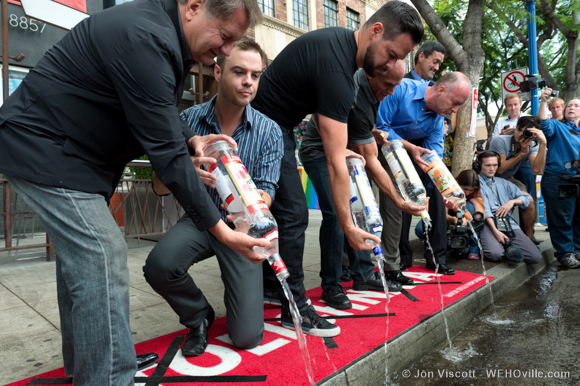 West Hollywood gay bar owners joined with West Hollywood Councilmember John Duran on Thursday in pouring the contents of Stoli vodka bottles into a gutter as part of a vodka boycott that has stretched across the county in opposition to anti-gay laws recently signed by Russian President Vladimir Putin.
The Stoli pouring was held outside of Micky's gay bar in the heart of WeHo's gay bar district, and included Micky's owner Michael Nieymeyer, Eleven owner Richard Grossi and Revolver managing partner Alfredo Diaz.
"We are using this boycott to raise awareness of the heinous persecution of our LGBT brothers and sisters in Russia," Duran said. "Brands such as Russian Standard and Stolichnaya have historically been marketed as the premier Russian vodkas in the United States and are either produced in Russia, made from Russian ingredients, or both.
"Saying that you as a corporation are a friend to the gay community just isn't enough when lesbians, gays, bi-sexual and transgender people in Russia are fighting for their lives," he said.
West Hollywood bars Micky's, Revolver, Eleven and The Abbey, along with restaurant Tortilla Republic, have pulled Russian vodkas from their shelves as part of the boycott, which is already being carried out by bars in cities such as New York, Seattle, Chicago and San Francisco.
Recently, Russian President Vladimir Putin signed legislation banning gay adoptions, "propaganda of nontraditional sexual relations," gay pride events and providing children with information on homosexuality. The bill was passed overwhelmingly by Russia's parliament. There also has been a recent outbreak of violent attacks on the country's gay citizens and advocates.
"One of the benefits of having public office is that I have the power of the podium," said Duran. "I can call the press and say we're having a press conference, and they'll actually show up. In this case I'm making use of my public office to raise public awareness around Southern California about what's happening to the LGBT community in Russia."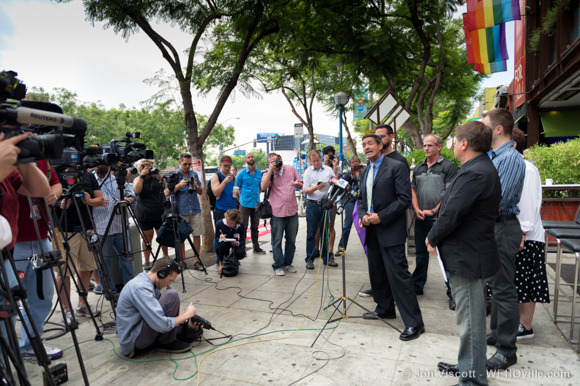 Nearly a dozen TV cameras showed up to the event, which included short speeches from the owners who later joined Duran in pouring out the contents of large Stoli bottles (water) into a gutter along Santa Monica Boulevard.
"What they're doing now, it's unbelievable," said Grossi. "Basically you can't think about being gay there. They're making it so you can't talk about it. They can't think about it. For a country as powerful and big as Russia to be doing something like that, we can't stand by and watch it happen. Unfortunately we don't have a lot of power against them. So we're reaching for the only thing we know how to do and that's to boycott their products. We're hoping to get the publicity so the cause gets bigger and the people who do have some power get concerned and exert their pressure on the Russian government."
"What can we do as individuals?" said Duran. "We can do a boycott. The problem with boycotts is they are very sloppy. It's not the greatest political tool to use. But when all other channels fail, it's all we have left. We can't just call the Russian Duma (lower house of the country's legislature) and say 'Stop what you're doing.'"
Grossi hopes the movement grows to include the Olympics, which will be held in Sochi, Russia. According to the country's sports minister, Russia will enforce its anti-gay law cracking down on gay rights activism when its hosts the Olympics.
"I'm hoping we get athletes and the Olympic Committee to become involved even if it's referred to as the 'Rainbow Olympics,' and athletes put rainbow emblems on their uniforms," Grossi said. "That would be a major achievement."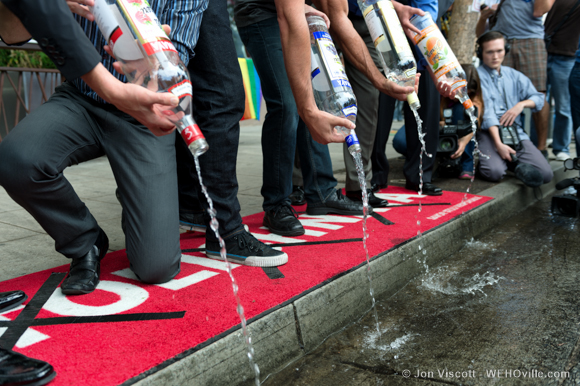 Nieymeyer said he would like to see Hollywood get involved. "The music industry should look at this," he said. "Should they be doing concerts and tours of Russia? We'd invite them to join us in the boycott."
Officials from Stolichnaya recently issued a statement saying the company "has always been and continues to be a fervent supporter and friend to the LGBT community." The company also insisted it has no ties to the Russian government, although the vodka is made with Russian ingredients.
"Stoli is not a perfect villain in this," said Grossi. "Stoli actually does a lot of good things. I don't know what's in their heart but I think they've done things for the gay community. They're also owned by someone in Russia, a very powerful person."
"We don't hate Stoli," he continued. "Our customers don't hate Stoli. The reason we're doing this is because our customers like Stoli. They have good vodka. A boycott about something you don't care about doesn't mean much."
Stolichnaya's parent company, SPI Group, is based in Luxembourg and the vodka is bottled in Latvia, but proponents of the boycott contend that the owner of SPI, Yuri Scheffler, one of the 100 richest men in Russia, should be using his power to put pressure on the Russian government.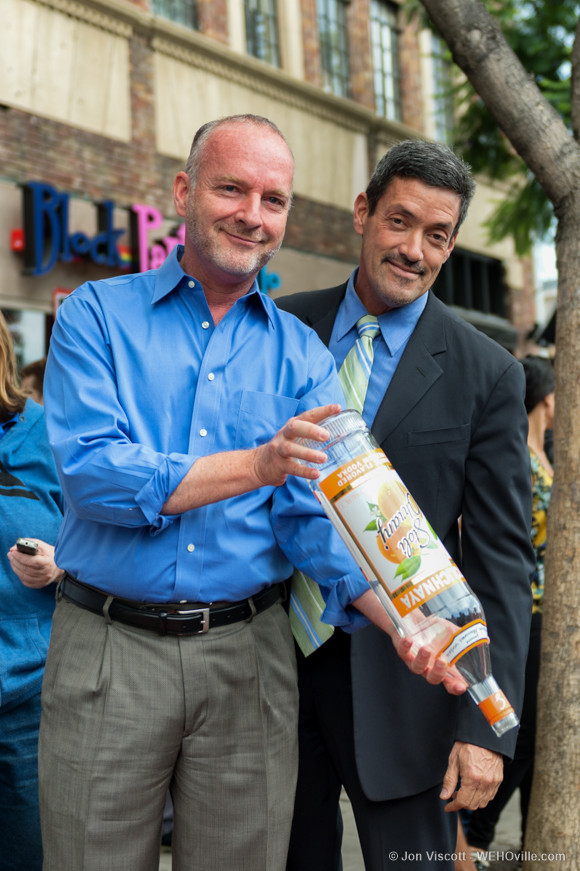 "We researched the materials and the confusion about Latvia," said Nieymeyer. "As we looked at it, the parent corporate holder has large investments in Russia. Online we saw the big new office tower that they built in Moscow. People with money have influence in that country just like they do in this country. We hope they'll use it."
"We've got caviar, vodka and fertilizer to choose from," said Revolver's Diaz. "Vodka is the most widely used."
Larry Block, owner of the Block Party gay clothing store in the heart of WeHo's gay bar district, said he was asked to participate in Thursday's event but declined.
"I don't support this kind of drama over diplomacy," said Block, who noted that there wasn't a representative from WeHo's large Russian community at the event.
"This is for show," said Block. "When you're going for show, you are doing it for show instead of for effect. The effect is what can we do to organize the internal Russian community and rise up? Why not contact our large community of Russian immigrants and have them come to a meeting and ask for their advice?"
When questioned about how the city might involve the Russian community, Duran said "I think the next step in terms of our own West Hollywood community is to get our Gay and Lesbian Advisory Board and Russian Advisory Board talking. You have to remember who our Russian-speaking population is. They are Soviet Jews who escaped persecution in Russia. The reason they got here in the 1970s is that Russia was targeting them for political persecution because they were Jewish. If anyone understands Russia targeting a minority group our Russian community does."
Block also called the event a "big photo op drama," "unauthentic" and claimed that some of the bars, including Eleven and the Abbey, have exclusive contracts to serve Absolut and don't even carry Stoli.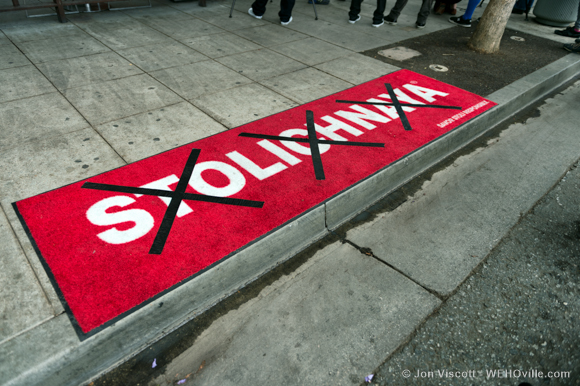 "Yes, I wanted to make use of this Russian vodka boycott to bring every TV station in LA here," said Duran. "They are now broadcasting across LA what's happening in Russia. I'm happy to use my public office for it and I can actually multi-task. I can open up a new library, make sure the streets are paved and practice law at the same time."
"I'm against everything happening in Russia, who could be for it?" said Block. "But I think our City Council could have organized an emergency meeting of the Russian Advisory Board."
Duran also called on "straight allies," particularly on the Sunset Strip, to get involved.
"Gay people know what's happening to gay people in Russia," said Duran. "Our straight allies do not."
Each of the bar owners said they had almost exclusively received positive feedback regarding the boycott.
"A majority of people, and I do mean a vast majority, support it," said Diaz. "They're curious. They want to be educated."
Also attending to lend his support was Rodney Scott, president of Christopher Street West, which puts on the annual LA Pride event.