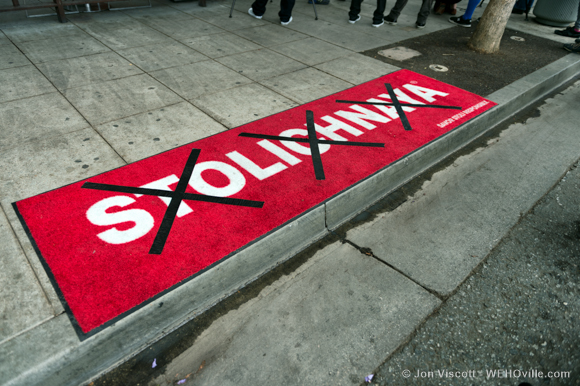 At least one member of the West Hollywood City Council isn't supporting the "Dump Stoli" campaign that saw council member John Duran and several local gay bar owners pouring mock Stoli vodka into a WeHo gutter Thursday.
Councilmember Jeffrey Prang, in a call to WEHOville from Seattle, where he is vacationing with family, said the protestors have chosen the wrong target in their effort to pressure the Russian government over anti-gay laws recently passed in that country.
"I recognize that boycotts are often a blunt instrument and have impacts that are not intended," Prang said. "I think in this case, the evidence seems much more convincing that Stoli was the wrong target. It is not a Russian company. It manufactures its product in Latvia and Poland. It's headquartered in Luxembourg. I think the most you can say is the closest connection to Russia is its name."
"Emotions are high right now. What the Russians are doing is pretty egregious and I think people reacted quickly with their frustration, with their anger. I think that's what we saw with this [boycott]," Prang said. "We've had over a week now. We've had more time to collect more information, to do more research. In that context, we should pause and make a more informed and thoughtful decision."
"I'm certain that [Russian Prime Minister] Vladimir Putin is not sitting back waiting for a vodka company from Latvia to call and offer their opinion on Russian policy toward LGBT people," said Prang.
The "Dump Stoli" campaign was orchestrated nationally by gay activist and writer Dan Savage of Seattle. Savage argued that Stolichnaya vodka is owned by SPI Group, which has offices in Russia, is controlled by a Russian national and grows the grain from which the vodka is made there.
But Prang pointed out that Stoli has been one of the earliest and more forceful supporters of LGBT rights, with gay-friendly policies for employees and public support for LGBT groups.
"It just seems inequitable to ask a corporation like Stoli to do everything that they can in support of LGBT rights and then they do it, but they still get singled out for punitive treatment even though they've done everything we could have ever asked them to," Prang said.
Prang said the Stoli boycott campaign, which also has the support of West Hollywood Councilmember John D'Amico, could lead to other worldwide corporations reconsidering their support for LGBT groups. D'Amico, council member John Heilman  and Mayor Abbe Land did not respond to WEHOville's request for comments on the Thursday demonstration.
"It essentially says, 'You could be our scapegoat if it's convenient despite all of your good acts,'" Prang said of the boycott.
Prang, who like council members Duran, D'Amico and Heilman is gay, noted that he's not specifically endorsing Stoli. "I'm not an advocate of Stolichnaya. I don't care one way or another about vodka companies," Prang said. "I do care about promulgating policies that are as fair as possible. I don't believe this boycott meets that standard."