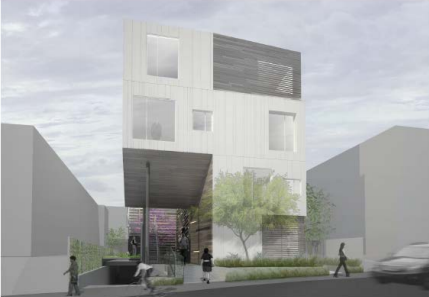 West Hollywood's Planning Commission unanimously approved a new condominium building designed by noted architect Lorcan O'Herlihy at its Thursday night meeting.
The single-family house at 935 San Vicente Blvd., just north of Cynthia Street, will be demolished to build a four-story, seven-unit contemporary condominium building, which will be 9,200 square feet. The new building will include a center courtyard design with all units opening onto the courtyard.
O'Herlihy, who in 2004 was named one of eight "critical emerging voices of architecture" in the United States by the Architectural League of New York, said the key to the building is how it engages the street as the courtyard is visible through the pedestrian entry.
The building has a block design broken up with wood siding panels scattered throughout. The commissioners praised the modern, contemporary design.
"I think its going to fit into the neighborhood well," said Commissioner Donald DeLuccio.
Commissioner Roy Huebner praised the building's modern style, and the incorporation of the courtyard, which, he noted, are unique to California.
O'Herlihy asked for a slight modification to the city's zoning laws by going 115 feet over the maximum 1,200 square feet normally allowed for each unit. The commission approved the request without discussion.
The Los Angeles-based O'Herlihy has designed several other modern residential buildings in West Hollywood, including the four-story, 11-unit "Formosa 1140" building at 1140 Formosa Ave. near Lexington, and the two-story, 19-unit "Habitat 825" condo building located at 825 Kings Road at Warring beside the famed Schindler House. Both buildings won numerous architectural awards.
O'Herlihy also designed the 8-unit loft building on the northeast corner of Willoughby Street and Hayworth Avenue and the 10-unit courtyard building at 1050 Gardner St. near Santa Monica, both of which also won several awards.
The single-family house currently sitting on the site was built in 1905. It was nominated for the city's Old Sherman Thematic Grouping district of historic homes in 1999. The City Council voted against including it because there had been too many alterations to the house over the years.
Mir Investments, Inc. owns the property. Construction is expected to begin early in 2014.