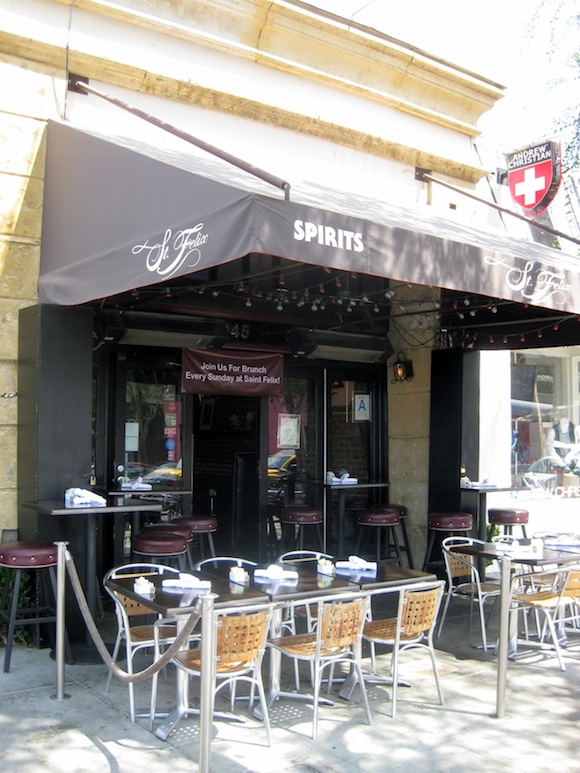 "We didn't have a soft opening … it was more of a loud bang," says St. Felix's owner, John Arakaki, on opening his neighborhood gastropub in the heart of Boystown on gay pride weekend in 2008. "It was trial by fire."
He reminisces with me by phone from his hometown of Cleveland. He is taking a break from running two St. Felix establishments (another opened a couple of years ago in the Cahuenga corridor in Hollywood after the success of the flagship in WeHo). "There wasn't anyone doing small plates in this part of West Hollywood," he continues. " We wanted to do something with a neighborhood feel that wasn't pretentious."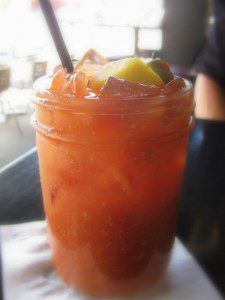 I assume his allusion to pretention is directed at Bin 8945 – the former wine bar that once occupied St. Felix's modest space on the corner of Santa Monica Boulevard and Robertson. Evidently, WeHo did not value wine dégustation along its cruisiest disco promenade.
So back in 2008, during that raucous Pride weekend, Arakaki's restaurant group, Libertine, rolled the dice. Already at the helm of WeHo's Fubar and armed with years of marketing and promotion experience (pioneering Monster Energy Drink among other things), Arakaki and his partners decided to open a new, friendlier bar in Bin's abandoned space, a bar named after a persecuted and beheaded Christian martyr. Wait. What? Cue the needle scratch.
"As far as any deep religious symbolism goes … it's not that involved," Arakaki protests. "My father is named Felix and Felix means 'lucky' in Latin. We added the 'Saint' only because Felix by itself had been used too much already as a business name. We're not that deep."
So things are not always what they seem, especially in Hollywood, and St. Felix is no exception. Walking by, one could easily dismiss the place as another fueling station for the endless pageantry of club kids. But under Executive Chef Edward Ferreira, St. Felix strives to be much more than that. In addition to  ambitious, small plate dinner offerings and an extended happy hour menu that runs from 4  to 8 p.m., this neighborhood gastropub is now rolling out its new Sunday brunch menu. This writer snuck in behind Arakaki's back to see if breakfast at St. Felix is any good.
When I arrived at 11:30 a.m., I was the only one in the joint. Only ghosts of last night's reverie stirred to the disco beat still thrumming from speakers overhead. I peered over deserted black leather booths, up the Victorian flocked wallpaper and into the glassy eyes of a deer head mounted above. I retreated, opting instead for the small cluster of sun splashed tables outside by the sidewalk.
My server appeared, handsome and friendly, and offered me a carafe of mimosa ($24) or a Bloody Mary ($12). I opted for the latter. It's celery free, but the mix is thick and tastes house-made, heavily flecked with fresh horseradish.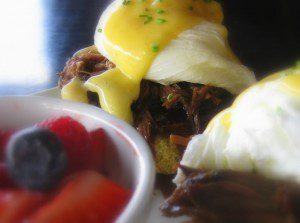 The stars here are four versions of Eggs Benedict: Spinach and Kale, Smoked Salmon, Candied Bacon, and Braised Beef, all around $13. They are all well-crafted and each is served with breakfast potatoes or a bowl of fresh fruit mercifully free of cantaloupe. All Benedicts have a choice of English muffin or house-made jalapeño cornbread on which to support your choice of protein, and the crowning eggs are cooked perfectly, poached delicately in the traditional method in open water.
The beef in the Braised Beef Benedict teeters on being over-seasoned, but when I properly composed a bite of the tender shreds of roast atop the fluffy cornbread, I found that the dish marries well. However, my favorite of the four is the Candied Bacon version. Here, thick cut bacon is marinated in sweet gooeyness and then crisped to caramelize the pork fat.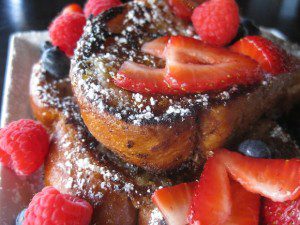 The menu also features build-your-own scrambles and house-made granola with coconut, almonds and cherries. I finished with the Crème Brûlée French Toast ($10) featuring thick cut challah bread spiced with Tahitian vanilla and organic agave, sprinkled with cane sugar and torched to a crunchy lacquer, leaving the bread creamy within. There is a lot of bad French toast in the world, and this isn't one of them. Topped with fresh berries, this is a whole lot of a good thing. So, unless you're in your 20s, prepare to be riddled with guilt as you stagger away to the gym in a sugar-induced stupor.
At least until the word gets out, brunch at St. Felix is a good option for locals who don't want to deal with a waitlist scene and prefer to sit down immediately and get to the "hair of the dog" with a small group of friends. The menu is a bit limited and portioned modestly and though not destination dining, it is better than many places in town with longer lines. Currently, the chef is not taxed, a good meal and excellent service.
Let's hope the quality continues when the crowds discover mornings at St. Felix, and deliver John Arakaki's ambitious gastropub a robust people-watching scene — always the sure-fire way to stoke Boystown's appetite.