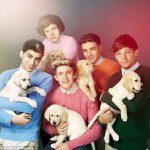 Looks as if we've just missed a boy band battle on Sunset Boulevard. And we mean fisticuffs, not a concert.
Rival English-Irish boy bands One Direction and The Wanted have been staying in hotels across the street from one another. That explains the grouping of girls outside the Andaz West Hollywood, who were hoping to catch a glimpse of One Direction. Their anxious cheers have caused some locals to resurrect the name "Riot Hyatt" for that hotel. Those of us of a certain age will remember that the Andaz, then the Hyatt, was home in the 70s and '80s to rebellious rock stars known for throwing TVs out the hotel windows and riding motorcycles down the hall. Band members Niall Horan, Zayn Malik, Liam Payne, Harry Styles and Louis Tomlinson are keeping a relatively low profile, with ample security around the hotel.
Across the street, the Mondrian has been hosting One Direction's biggest rival, the English-Irish boy band The Wanted, whose latest single "We Own the Night," has gotten raves.  The Wanted certainly owned at least part of the day when the band members Max George, Nathan Sykes, Tom Parker, Jay McGuiness and Siva Kaneswaran strolled down Sunset for a bite at Saddle Ranch and found themselves surrounded by screaming female fans.
We can be thankful that the two boy bands haven't managed to bump into one another on Sunset. Entertainmentwise reports that Max George has said the two boy bands should take their competition into the ring.
"We would like a boxing match- them against us. It would be brilliant for TV and I don't have a problem with it at all," he said. "They've got 12 million followers on Twitter, and I get that they have an army of kids, but instead of doing that if they have got an issue, why don't we actually do something financially — like make some money for a charity, and blow off some steam in a boxing ring."
We bet that would even draw the boys away from Boystown for a night.