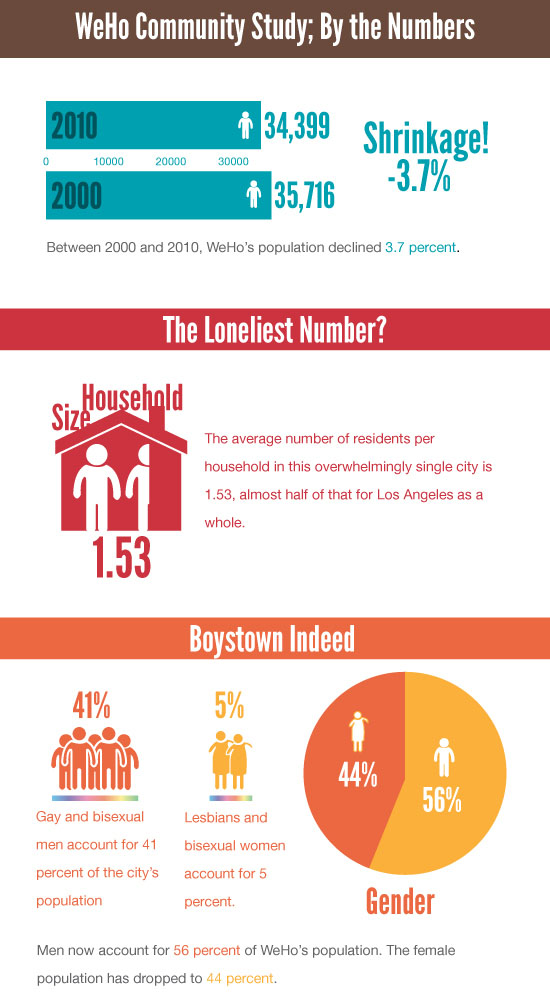 [dropcap]W[/dropcap]est Hollywood is getting smaller, the men are getting older, the population is becoming more ethnically diverse, and people really like living here.
It's still a city for singles and gays, although when it comes to same-sex couples living together, WeHo ranks No. 3 among California communities. And the percentage of men in WeHo continues to grow while the percentage of women continues to decline.
Those are just a few of the results of a four-month study conducted by city that explored demographics, community health issues, housing conditions, transportation needs, social services needs, communications needs and overall quality of life.
The study, which included a mailed and online survey, various "pop up" workshops in public places, focus groups and interviews with civic leaders, comes on the heels of one conducted in 2006. Earlier surveys were conducted in 1994 and 1998. The city government uses the survey to assess community needs and allocate resources. For example, the city council increased funding for programs for frail seniors and low- or fixed-income residents after the 2006 study showed those as major needs. The study also includes information from the U.S. Census Bureau's American Community Survey from 2010, UCLA's Williams Institute and the Los Angeles County Department of Public Health.
[hr_dotted]
POPULATION
[hr_dotted]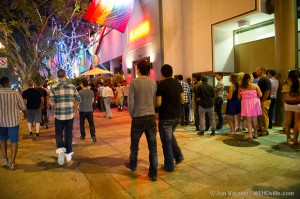 The study reports that the city's population has shrunk since 2000, when there were 35,716 residents living in 23,120 apartments and houses. In 2010, the city counted 34,399 residents living in 22,511 houses and apartments. That's a 3.7 percent decline in population and a 2.6 percent decline in households. The average number of residents per household in this overwhelmingly single city is 1.53, almost half of that for Los Angeles as a whole.
WeHo's male population, at 56 percent, continues to grow, while the female population, at 44 percent, continues to decline. The percentage of young children (under 5), young adults (20 to 30) and middle-aged adults (40 to 64) and older seniors (over 80) has grown between 2000 and 2010. The percentage of those aged 65 to 79 has decreased.
The percentage of households living below the poverty level (13 percent) has increased since 2000, no doubt because of the recession. But it still is fewer than the 15 percent if Los Angeles County impoverished households.
[hr_dotted]
HEALTH
[hr_dotted]
If you live in West Hollywood, you're less likely to suffer a heart attack or die from stroke than the average Angeleno, according to Los Angeles Public Health Department figures included in the study. And you're less likely to be overweight.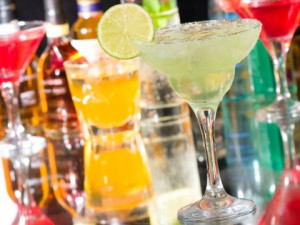 Of every 1,000 residents, 141 have in West Hollywood have heart disease compared with 161 in Los Angeles County. Twenty five of every 1,000 WeHo'ans die of a stroke, on average, compared to 40 of every 1,000 Los Angeles County residents. That's despite the fact that 19.6 percent of city residents smoke, compared with 14.3 of all Los Angeles County residents. West Hollywood ranked high among Los Angeles County communities in the number of collisions and deaths involving alcohol. The death rate between 2000 and 2007 was 10 per 100,000 residents (or three people). And the number of collisions (92 between 2009 and 2011) was two times the county average.
When they aren't drinking and smoking, West Hollywood residents are working out. In fitness-obsessed West Hollywood, only 15 percent of residents are obese compared with nearly a quarter of Angelenos overall.
WeHo's health issue is HIV/AIDS, where Los Angeles County Public Health department numbers show the percentage infected is greater than in most other Los Angeles County communities. Just fewer than 7 percent of West Hollywood's residents (2,328 people) are living with HIV or AIDS.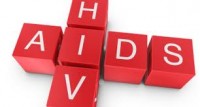 Although HIV/AIDS also afflicts heterosexuals, if one were to assume the disease is mostly concentrated in the city's gay male population, which makes up about 40 percent of city residents, that would mean that almost two of every 10 gay men in the city is HIV positive. The number of people living with AIDS is 1,250 the study estimates. The public health department considers numbers from 2010 through 2012 to be provisional and subject to updating.
The good news is that the number of people diagnosed with HIV has been falling. There were more than 200 new diagnoses per year in the mid-1990s and as of 2009, the latest year for which numbers are available, there were only 35 diagnoses. Also, while 150 people on average died of AIDs in West Hollywood in the mid-1990s, the number dropped to 31 in 2009.
Los Angeles County Department of Mental Health figures show that 8 percent of West Hollywood residents suffer from serious mental illness or emotional disturbance, compared to 6 percent in Los Angeles County as a whole.  Sixty-one percent of those in WeHo with mental illness are in the 26 to 59 age bracket.
[hr_dotted]
HOUSING
[hr_dotted]
In the last 10 years, the city has added only 375 housing units, although the population has decreased during that period. The city's housing stock largely consists of buildings with five or more units. The proportion of residents who rent (78 percent) has remained stable in the last decade and is significantly higher than that of the whole county, where 52 percent are renters. City residents are less transient, a likely effect of the recession, with only 39 percent of them reporting in 2010 that they had moved in the past five years compared with 60 percent reporting a move in 2000.
[hr_dotted]
TRANSPORTATION
[hr_dotted]
The percentage of West Hollywood residents who drive alone to work has declined from 2000 to 2010, with 71 percent reporting driving alone in 2010 compared to 75 percent in 2000 according to the U.S. Census. There has been little change in use of public transit, with figures increasing two percentage points to 7 percent between 2000 and 2010. Those who used public transit, however, were relatively affluent, with 82 percent of WeHo transit riders claiming an income of $14,999 or more compared with only 55 percent of those in Los Angeles County. The community survey found daily usage of an MTA bus among 6 percent of residents, while less than a half percent used the free Cityline Shuttle daily. Residents surveyed were most satisfied with the city's Dial-a-Ride program and least satisfied with the Cityline Shuttle and taxi coupon program. They asked for better information about routes and times and more frequent operation of transit services.
Other suggestions included closing major streets on a weekend day to encourage pedestrian traffic and widening sidewalks in the city's east side. Traffic congestion was an issue, with those participating in the survey suggesting car sharing options and shuttles for weekend visitors. There were also suggestion for better enforcing bicycle laws to reduce the number on the sidewalks and for enhancing bike lanes.
The city has seen an increase in the percentage of those reporting they worked from home, which grew from 8 percent in 2000 to 13 percent in 2010. That compares with 7 percent in Los Angeles County as a whole.  West Hollywood has a relatively large percentage of residents who do not have access to a motor vehicle (16 percent) compared to Los Angeles County (9 percent).
[hr_dotted]
AGE, SEX & SEXUAL ORIENTATION
[hr_dotted]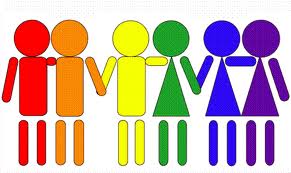 WeHo's demographics reveal what's unique about this little berg, home to about 1,400 same-sex households.
Gay and bisexual men account for 41 percent of the city's population. Lesbians and bisexual women account for only 5 percent.
The city isn't just gayer than your average locale — it's older as well.
Only a sparse 5 percent of households have children 18 and younger; that's down from 13 percent in 1980. The few youth who do live in WeHo, though, are overwhelmingly the preschool set: kids 5 and younger comprise a full 42 percent of the city's youth.
Meanwhile, 15 percent of WeHo'ans are seniors (ages 65 and up) — down since the last survey but still significantly higher than county's 11 percent. Most WeHo seniors are between 65 and 79; only about one-third are 80 or older.
[hr_dotted]
RACE and ETHNICITY
[hr_dotted]
WeHo's population remains much whiter than the county as a whole: 78 percent of WeHo'ans are white compared with only 28 percent of county residents. In WeHo, 5 percent of residents are Asian or Pacific Islander; 3 percent are black; and 11 percent are Hispanic/Latino. (Countywide, 48 percent of residents are Hispanic/Latino.)
Besides gay men, there is one other minority group with a large population in WeHo: immigrants from the former Soviet Union. A full 11 percent of the city population identifies a former Soviet republic as their place of ancestry–compared to less than 1 percent of the county's total population. Of those, half name Ukraine as their place of origin while 31 percent name Russia.