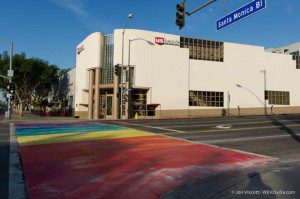 A gay walk of fame. Utility boxes painted with a gay-theme design. A town-hall meeting after next year's gay pride festival.
All are just a few of the ideas being tossed around by West Hollywood's Lesbian and Gay Advisory Board for the upcoming year.
Here's a rundown of what was discussed at Thursday night's LGAB meeting where the board's various subcommittee's made progress reports:
Intersection of San Vicente and Santa Monica boulevards – In addition to discussing possible names for the intersection, which is viewed as the heart of the city's gay district, the committee may suggest other amenities for the intersection to the City Council. Those amenities include installing a gay walk of fame honoring various heroes of the LGBT rights movement, painting the remaining two crosswalks rainbow colors, creating plaques commemorating major gay protests/gathering that took place in the intersection and adding flagpoles flying the flags of various gay-related groups (bears, bisexuals, etc.). The committee would also like to see a decoration over the intersection, such as rainbow colored arch or halo.
Utility Boxes – The board views utility boxes, which are on sidewalks beside many major streets, like canvases waiting for an artist. The decorated boxes could have gay-themed designs or include important information about the gay community. The committee believes it would set West Hollywood apart from other cities. Since there are several utility boxes at the San Vicente-Santa Monica intersection, the committee suggested starting there and, if successful, spreading the painted utility boxes to other parts of town with appropriate themes for each part of town (such as Russian themes on the eastside).
Outreach – LGAB would work with other groups on projects. Ideas mentioned include holding a town-hall meeting with Christopher Street West (the group that puts on the yearly gay pride festival) for community feedback following next year's gay pride festivities, holding a Transgender 101 workshop with the city's Transgender Advisory Board and addressing the Russian Parliament's recent passage of anti-gay laws with the city's Russian Advisory Board.