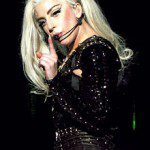 Just when folks start grumbling that The Abbey, probably West Hollywood's most famous gay bar, is getting stale, someone strolls in to prove that it's still the place to be seen. On Sunday (Aug. 11), that someone was Lady Gaga, who was accompanied by friends and members of the Haus of Gaga, the creative team that designs her clothes and her over-the-top hairdos and headwear.
The crowd, needless to say, went gaga over Lady Gaga. That was especially the case when "Aura," a song of hers that has been leaked before its upcoming release, played on the speakers. But Lady Gaga kept her cool on this warm afternoon, wearing what looked like a black bra with black shorts, with her midriff exposed.
Those of you who didn't get the memo and missed the chance to be a Gaga groupie can see pics online.