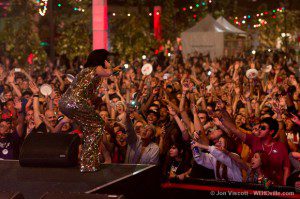 West Hollywood's Lesbian and Gay Advisory Board will hold a number of town-hall style meetings for feedback about the annual gay pride festival in the next few weeks.
During the Aug. 8 LGAB meeting, plans were announced for a community meeting following next year's pride event. Now, LGAB co-chair Robert Gamboa  says he wants to hold that meeting much sooner, and is looking into holding multiple meetings.
"I'm hoping we can get them going before October," said Gamboa. "A lot of people want to give input and I want them to give it!"
LGAB plans to hold the meeting(s) in conjunction with Christopher Street West, the group that produces the annual pride parade and festival during the second weekend of June each year.
In late July, a number of CSW insiders voiced their unhappiness with their relationship with the City of West Hollywood and WeHo businesses in a WEHOville report. The pride parade and festival have also been criticized by some as being "tired," too commercialized and in need of updating.
Gamboa feels community input will be valuable for improving the festival.