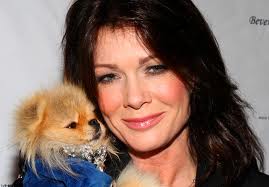 "Real Housewives of Beverly Hills" co-star Lisa Vanderpump and her husband were among those named today in a $4 million lawsuit concerning a dispute over lease space for a gay-oriented, sports-themed restaurant and nightclub in West Hollywood.
Ryan Carrillo and Andrew Gruver filed the suit in Los Angeles Superior Court against Vanderpump, her spouse, Ken Todd, and businessmen Freddy Braidy, Edward Frumkes and Elie Samaha. The allegations include breach of contract, intentional interference with prospective economic relations and deceit/misrepresentation.
Representatives for the defendants could not be immediately reached.
According to the complaint, Samaha, a film producer and restaurant owner, liked the plaintiffs' idea for a sports-themed establishment they dubbed Bar Varsity and offered in 2009 to assist them in leasing space at a discount rate at the Java Detour location at 8948 Santa Monica Blvd.
Samaha offered to invest $500,000 in the project in exchange for Carrillo and Gruver developing the Bar Varsity idea with their `"sweat equity," according to the complaint.
Carrillo and Gruver, relying on Samaha's alleged promises, quit their jobs as general manager and promotions manager, respectively, at the Abbey restaurant in West Hollywood, the suit states.
Carrillo and Gruver say they met with architects and spent hundreds of hours guiding the project through the permitting process and meeting all other requirements placed upon them by the city of West Hollywood. But Samaha later became cool to the project, refused to invest the promised $500,000 and became evasive, their suit alleges.
In February, Gruver and Carrillo learned that the Java Detour location had a sign on it, P.U.M.P Lounge, and that it had been leased to Vanderpump and Todd, according to the suit.