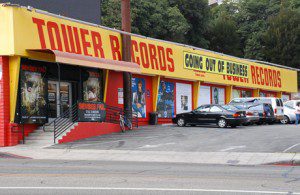 West Hollywood resident Jerome Cleary's appeal over the Historic Preservation Commission's decision to deny cultural resource designation for the Tower Records site has been accepted by the city and will be heard during a fall City Council meeting.
Cleary recently submitted the 50 petition signatures necessary for the appeal, which means the item will now be discussed and re-considered by the City Council. Cleary and those in favor of historic status can also submit new information for the council to consider.
Without the appeal, most likely the City Council would have kept the item on its "consent calendar," which includes items from city commissions passed without discussion.
In late April, West Hollywood's Historic Preservation Commission voted unanimously not to grant historic status to the former Tower Records store on Sunset Boulevard because the building's once distinctive yellow-and-red facade was repainted white after the store went out of business.
However, hoping the site's history is recognized, the commission recommended the City Council find a way to commemorate the former store with a sign on the sidewalk or by naming the intersection in front of the building "Tower Records Square."
Shortly thereafter, Cleary launched an online fundraising drive to hire preservation experts to study the issue, and began collecting signatures for an appeal, which can also be brought to the council for a $403 fee and additional public notice fee of $864. By collecting the signatures, Cleary avoided paying the fees.
The commission's decision came after a heated debate about whether the flagship store of the Sacramento-based Tower Record chain, which was an integral part of the Strip music scene for 36 years, was worthy of being designated a "local cultural resource." Advocates argued that the unassuming one-story building was the center of the music industry for the entire nation, a place where locals, tourists and celebrities all shopped.
For a look at the Tower Records site through the years, click here.