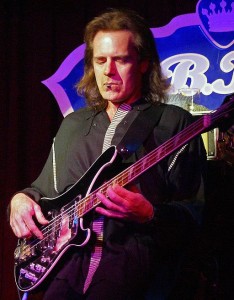 Progressive rock band Spock's Beard was formed in 1992 by brothers Alan and Neil Morse. The group will be performing its brand of face-melting, 'prog' rock at the Whisky a Go Go on Wednesday, Aug. 21. Drawing from intricate multi-part vocal harmonies and often utilizing the "counterpoint" writing style, the band offers a uniquely energetic live experience. And no, they aren't just a bunch of Trekkies.
Spock's Beard bassist Dave Meros spoke with us about the band's 20 year anniversary, the good old days as a pay-to-play musician and the evolution of the music industry.
Question: How would you describe your sound?
Answer: "We have a lot of similarities to classic rock bands like Yes, Genesis, Pink Floyd, Gentle Giants, etc., but with a new flair."
Q: How did the name come about?
A: "Alan and Neil were at a really bizarre party once, just sitting in the corner and it was very trippy, like an alternate universe. And one of them, I forget which one, said it was like the one 'Star Trek' episode where Spock had a beard. They thought it was funny and could make a good band name. When we were naming the band, we had pages of potential names but that one was the survivor, so we went with it. Pink Floyd is a stupid name, too."
Q: Tell us about the band's formation?
A: "Neil had gone through some kind of motivational program and had wrote some songs that eventually became "The Light," our first record. Neil recorded some demos and had his brother Al come over and lay down some guitar solos. They eventually decided to include other humans and form a band to do some gigs. They found Ryo [Okumoto] (keys and vocals) and Nick [D'Virgilio] (drums and vocals) and originally had another bass player for a couple live shows but he didn't work out and I wound up in there. We did a few live shows and recorded our first record."
Q: Why does Spock's Beard give such physical live performances?
A: "We're all older guys and we grew up in that rock era, where you are physically involved in your playing. There's a lot of guys who, as far as playing their instruments, are shredding a lot more than us but we dig in pretty hard. It's just 'cause we want to. As we get older it becomes harder and harder but we do what we can. We've been doing this for a long time, this is our 20 year anniversary."
Q: What are some of your musical influences?
A: "I just went from phase to phase, I could just keep listing bands for the rest of the day but the first bug that bit me was at 7 or so when I saw the Beatles on The Ed Sullivan Show. I really got into the whole British Invasion thing. In high school, I got into jazz and fusion, after that I got into hard rock like Deep Purple and Black Sabbath. I sloshed back and forth. For a while, I was really into R&B, as a bass player in the 70' and 80's. That's the shit. I even got into country for a while in the 80s when it was Madonna or hair bands. I got pissed off and was hating everything, so I got into country. I almost moved to Nashville for a while but it's pretty competitive out there, so I chickened out.
Q: What about your early days on the Sunset Strip?
A: "It was right at the beginning of 1985. I found some of my old calendars from back then, I don't know how I did it. I was in five or six bands at a time plus working a job full time, 15- or 16-hour days, paying dues."
Q: What about your upcoming gigs?
A: "We're doing one in L.A. and one in San Diego. That's it for a while until we play in Spain in early November. We just got signed up for the "Progressive Nation" cruise in February. That will be interesting, four or five days out on a big cruise ship with 20 or 30 'prog' bands. "
Q: Is The Whisky an important venue to you?
A: Spock's Beard has played there once or twice before and it's kind of a funky little place but it's got a lot of history. I've played there before with some other bands, pay-to-play showcases. I played with Eric Burdon & The Animals for a long time, too. We played there once in the late 90s. It was a really cool bill: The Animals and Nancy Sinatra."
Q: Do you have a favorite venue on The Strip?
A: "The House of Blues. It's got the infrastructure, a great building. They treat bands really well. Great P.A., great monitors, great lights, great food, etc. A lot of the places on The Strip have seen better days. The Troubadour is still pretty cool. The Roxy used to be awesome but it really took a nosedive with all these pay-to-play bands, they give you 30 or 45 minutes and then they throw all your shit out in the alley after you're done. And you've paid like $1,000 for that experience. The one that used to be Gazzari's, then it was Billboard Live, then it was the Key Club, that was a good venue. Also, Madame Wong's West in Santa Monica was pretty cool."
Q: What does the future hold for the music industry?
A: "I think a lot of bands, us included, are going to eventually decide it's not worth it and stop. There will be Justin Bieber and Rihanna and everybody else will just be doing it as a hobby. Less quality. The whole industry is being degraded. It's evolution. We can't stop it. Music isn't enough for people anymore. They need multi-media. Seems like all the budgets are going into films now."