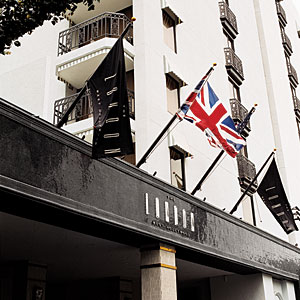 Northwood Investors, the privately held global real estate investment firm, has signed a letter of intent to acquire West Hollywood's The London hotel from Blackstone for $195 million, according to sources reported in Hotels Magazine.
The deal is expected to be finalized in the next few weeks and the hotel's brand is not expected to change, reports Hotels.
Northwood will add 21 rooms to the currently unfinished space on the ninth floor, as well as two penthouse suits on the 10th floor, according to Hotels.
The London, at 1020 N. San Vicente Blvd. south of Sunset, was formerly the Wyndham Bel Age. Blackstone acquired the hotel and closed it in 2007 for a year-long makeover, which cost $50 million.
The renovated hotel reopened as the London with a restaurant by Gordon Ramsey, the famed British chef. The renovation enabled Blackstone to increase room rates, which had been as low as $125 a night, to $449 and up.