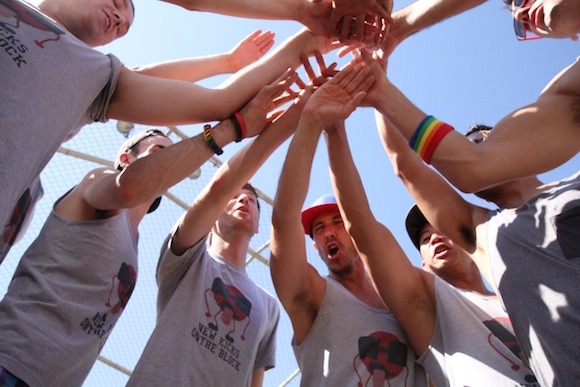 The playoffs arrived for the Varsity Gay League kickball summer season this weekend, with quarterfinals, semifinals and the finals all set for Sunday, Aug. 25 at the Hollywood Rec Center at 4 p.m.
Registration for the fall season (with games on Saturdays and Sundays) opened today online. Click here for the Saturday Rock 'n' Roll League, or here for the more advanced Sunday Champions League.
Below, see results from the first and second rounds of the playoffs.
1st Round:
Shady Bishes 9, Green Avengers 7
Josie Grossies 2, Sucky My Kick 1
New Kicks on the Block 6, Ball Busters 3
Racine Ballz 7, The Misfits 2
2nd Round
Jock Offs 24, Shady Bishes 0
Bloody Marys 9, New Kicks on the Block 1
Racine Ballz 6, The Amanda Bynes Experience 4
Marla Hooches 10, Josie Grossies 2