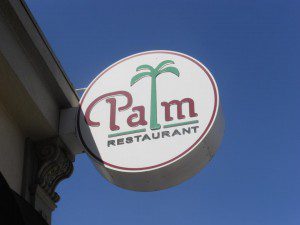 West Hollywood's City Council unanimously approved an extension for a development agreement to build a five-story retail and residential complex at 9001 Santa Monica Blvd. at La Peer, the site of the famous Palm steakhouse, during its Monday night meeting. The developer now has until July 2016 to start construction on the project, rather than July 2014, the date specified by the previous development agreement.
Approval of the extension puts an end to the question of whether the Palm would remain at that location, which has been its home since 1975. A publicist for the 30-restaurant Palm chain insisted to several media outlets, including WEHOville, that the Palm was not leaving the site. However, no representatives from the Palm showed up Monday night to oppose the development agreement.
When the council first approved the development in 2007, construction was to be done in two phases to allow the Palm to remain open throughout construction. With approval of this extension, the phasing has been eliminated and the building currently housing the Palm will be demolished.
Elimination of the phasing also means the new building will be completed much sooner.
"Shorter construction time results in less construction impact to the community," reads the staff report.
The council approved the extension without any discussion. Under the terms of the amended development agreement, the developer, 9001 Santa Monica Boulevard LLC, must also pay $1 million to the city.
The project, which is commonly referred to as the Palm Project, will have 42 residential units (including eight affordable), 9,850 square feet of retail space, 9,800 square feet of restaurant space and 180 parking spaces in a two-level parking garage. The project site includes the Palm restaurant building as well as the adjacent parking lot and auto repair business.
Shortly after the Palm Project was first approved in 2007, residents Jeanne Dobrin and Allegra Allison filed a lawsuit against it because the proposed height of 62 feet exceeded the city's zoning code, which allows a 55-foot maximum height for five-story buildings. That lawsuit was eventually settled and the height was reduced to 55 feet.
Ira Handelman, the lobbyist representing the 9001 Santa Monica Boulevard LLC, earlier indicated the Palm restaurant was looking for another location in the West Hollywood area. However, neither city staff nor WEHOville could confirm that.
The Palm also has a downtown Los Angeles location at 1100 S. Flower St. that opened in 2002.