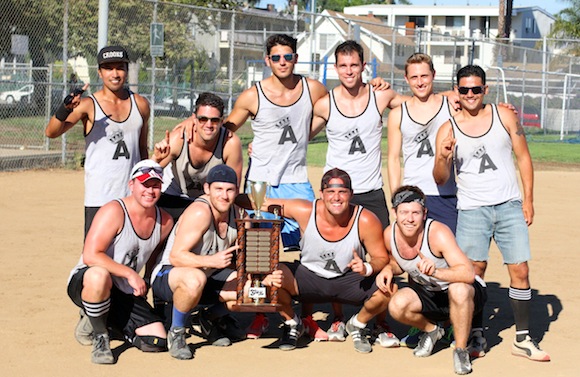 The Authority defeated the Hood Rats 5-4 in extra innings to take the title in the Varsity Gay League summer 2013 kickball league.
The quarterfinals, semifinals and finals were all held Sunday at the Hollywood Rec Center.
Registration for the fall season (with games on Saturdays and Sundays) is currently open.
Click here for the Saturday Rock 'n' Roll League, or here for the more advanced Sunday Champions League. The next seasons for VGL tennis, bowling and kickball start the weekend of Sept. 21.
Below, see results from Sunday's competition.
Quarterfinals
Marla Hooches 9, Gym Bar 8
Jock Offs 10, Honey Pots 0
Hood Rats 6, Bloody Mary 0
The Authority 6, Racine Ballz 0
Semifinals
Hood Rats 3, Marla Hooches 0
The Authority 5, Jock Offs 4
Finals
The Authority 5, Hood Rats 4 (extra innings)