The end of summer is nigh and you still haven't taken a vacation? Can't afford that first class seat to Paris? Can't get the week off you need to really explore New York City? Well, WEHOvillians, we suggest you do what hundreds of thousands of people from around the world do every year. Visit West Hollywood!
That's right. Take a three-day weekend and explore what the awesome Aussies, brilliant Brits and naughty New Yorkers find so wonderful about our little burg. All it takes is opening your eyes to the rich mix of style and nightlife and dining that characterize WeHo and that those of us who live here never really experience.
We at WEHOville have put together three different getaway agendas. One is for those of you who are celebrity crazed, another is for those who are food fanatics, and finally, one is for those who need to spark new life into a relationship that's feeling a bit rusty.
Too expensive, you say? Think of it this way — for less than the cost of even an economy class ticket to Paris (not to mention a week's stay in a hotel in the Marais) you can have the sort of glamorous weekend in WeHo that people cross the Atlantic for. And without having to take your shoes and belt off and go through an airport security line. But you must follow a couple of rules:
—  Tell your friends and family that you're going on vacation, but don't tell them where. That will curb phone calls from friends (and coworkers) that will dim the fantasy of your weekend get away.
— Board the dog and ditch the car. No going home to feed Fido while you're luxuriating in a hotel on the Sunset Strip.  Call a taxi or limo service to get around — you're on vacation, remember, and you don't need to be worrying about finding parking.
— Pack like you're heading to the balmy and glamorous climate that we all tend to take for granted. Maybe it's time to replace that worn bathing suit. Do you really want to show up for dinner in a glam WeHo restaurant wearing that same old cocktail dress?
Here are WEHOville's suggestions for a visit to West Hollywood that you'll never forget:
[hr]
CELEBRITY CRUISING
[hr]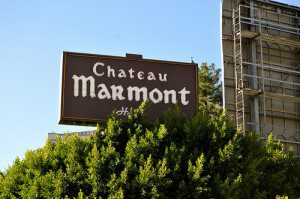 If you're into cruising celebrities — spotting in the flesh those folks you see on screen at the Arclight or Regal Cinemas or on Bravo tv — the Sunset Strip is the place to go.  We suggest a weekend at the Chateau Marmont, where Robert Pattinson's comings and goings are the subject of almost-daily online gossip postings. Lindsay Lohan was temporarily banned from the Marmont after racking up a $46,000 bill that she didn't pay. But you might run into her there if she's not in rehab because Marmont owner Andre Balazs lifted the ban last fall. Also keep your eyes open for the likes of Britney Spears, Colin Farrell, Elijah Wood, Matt Dillon, Christina Ricci, Tobey Maguire and Jude Law. But remember, don't ask for autographs. You're here to feel fabulous, and groveling for an autograph from an annoyed celeb is sure to set the Marmont staff on edge.
Once your limo works its way past the paparazzi and up Marmont lane, the bellboy will escort you to your room. A standard room (about 300 square feet with a courtyard view) will cost you about $535 a night. But we suggest you go for the "premier one bedroom suite." It will set you back $2,091 for two nights, including taxes. But you'll get a kitchen and dining area and a large terrace with sweeping views of the city below. And that's less expensive that an 11-hour flight to Paris, with you and your beloved crammed into an economy seat, which is costing $2,270 at present.
The Bar Marmont is another place to celebrity cruise and even dine, with entrees in the $16 to $27 range. But the joy of West Hollywood is that there are many other celebrity cruising alternatives. We suggest that on Friday night you summon your limo and head to the Sunset Tower (ask the Marmont concierge for help in securing a reservation). Dimitri, the famed maitre 'd will seat you in the Tower Bar, a restaurant whose food won't win a James Beard prize but Anjelica Huston, Bradley Cooper, John Mayer, Jason Reitman, Jason Sudeikis, Vince Vaughn, Betsy Bloomingdale and Barbara Davis — to name a few of the celebs likely dining near you — don't seem to mind.
Saturday daytime? You can lounge by the Marmont pool and see what those stars look like without makeup artists at hand. Or you can take a trip down the dark side of Hollywood by signing up for a Dearly Departed tour.
Driver Brian Donelly will have you laughing (not easy, considering the subject) during his two and a half hour drive through Hollywood, West Hollywood and Beverly Hills. You'll see the spot on Ivar and Hollywood Boulevard where Fred Mertz collapsed on the street. You'll see the last place where Mae West could say "come up and see me some time." You'll see the actual bungalow at the Marmont where John Belushi overdosed.  You'll hear the 911 tapes of one of the Menendez brothers reporting the murder of his parents and Joaquin Phoenix pleading for help for his brother, River, outside the Viper Room on Sunset Boulevard. A poignant reminder that no matter how fabulous we are, we all end up in the same place.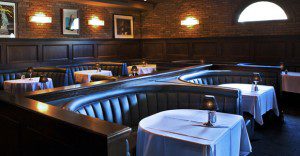 If you still have an appetite, there are so many options for a Saturday night dinner. Consider Craig's on Melrose Avenue, where you might spot the Hilton sisters, Derek Jeter or Ryan Seacrest, to name a few regulars. Craig Susser, who opened the restaurant almost three years ago, has drawn special attention for adding a selection of vegan dishes to his menu.
If reality TV is your passion, you can't do worse than dinner at SUR, the set for Lisa Vanderpump's Bravo reality show "Vanderpump Rules." You're almost certain to see the "real housewives" of Beverly Hills dining near you (Vanderpump herself being one of them). But you'll probably, depending on your sexual orientation, want to goggle the SUR staff, whose sexual antics gave "Vanderpump Rules" what plot it had. Keep an eye out for Jax Taylor and Tom Sandoval. With any luck your hostess will be Stassi Schroeder or Kristen Doute. The food gets generally good ratings.  But the food is not what SUR is about, is it?
After dinner, you must head to Bootsy Bellows (again, ask your Marmont concierge for help). David Arquette's club, named after his burlesque star mother, has been open a little more than a year and already is THE destination for paparazzi and the stars who deplore and adore them. Katy Perry, Justin Bieber, Selena Gomez, Robert Pattinson and Paris Hilton frequent Bellows.
Now back to that 1,000 square foot room at the Marmont (bigger than your WeHo apartment?) for some sweet dreams about your star-spangled weekend.
[hr]
GOURMET GETAWAY
[hr]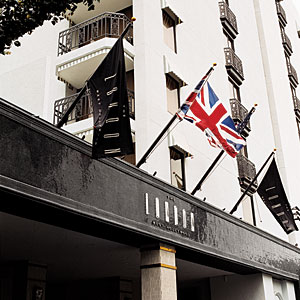 If it's an appetite for great cuisine that you want to satiate, there are two glam West Hollywood hotels that also offer star-quality dining.
One is the London West Hollywood, which houses the eponymous restaurant of famed British chef Gordon Ramsey. The London is — how shall we put it? — cheap by comparison with the Chateau Marmont. The Royal Crown Suite, priced at $1,652 including taxes for two nights, offers 1,650 square feet including a living room and bedroom. The bed is fitted with Fili d'Oro sheets — described as the Lamborghinis of Italian linen. And a personal barista will prepare your morning coffee.
But you're here for the food.  So on Friday night, definitely give Gordon Ramsay a try. Entrees, which range from $16 to $28, include sockeye salmon, prime rib cap steak and beef filet with a garlic herb crust.  And there's a three-course tasting menu at a prix fixe of $52.
After dinner, since you're less than a block from Sunset Boulevard, a stretch of roadway that WeHo'ans typically only drive down on their way to the 101, check out some of the music clubs for which the Strip if famous. There's not a famous rocker who hasn't taken the stage at the Roxy (and many on the cusp of fame might be playing there tonight). If you're looking for laughter, the Comedy Store is a short walk away (you might want to call for your limo to get to the Laugh Factory).
Night over, go luxuriate in those 300 thread count Fili d'Oro sheets.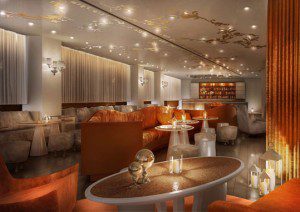 You might also consider the Mondrian, another Sunset Boulevard hotel, whose Asia de Cuba offers a highly rated combination of Chinese and Latin cuisine inspired by the immigration of Chinese to Mexico between 1880 and 1910.  The Mondrian's Penthouse will set you back a stunning $11,407 for two nights including taxes. But for only $1,093 (remember the money you're saving on airfare!) you can book a smaller suite whose balcony offers a stunning view of West Hollywood and beyond.
When New Year's Eve rolls around, Asia de Cuba will be replaced by a restaurant conceived by Brian Malarkey, the winning chef-mentor from the last season of ABC's "The Taste." But if it's in place when you arrive, you'll find yourself dining in a room designed by Philip Starck and facing a menu with entrees ranging from $23 to $49 that includes Cuban coffee crusted rib eye steak and coconut Chilean sea bass. Side dishes include such Latin staples as Cuban black beans and Asian staples like Thai coconut sticky rice.
When you wake up Saturday, continue your global food tour, all without leaving WeHo. Consider lunch at Traktir, a Russian restaurant for Russians. Pelmeni and varenyky. A variety of zakushi. Borsch. Beef Stroganoff.  Entrees range from $16 to $23.  And of course there's vodka, the Russian national drink. You might also explore Kashtan, a bit farther east on Santa Monica Boulevard, which is more Russian than Traktir, if that's possible.  You might find yourself the only one in the room who can't sing "Cossack Lullaby." A Russian restaurant with more of a California feel (they serve vegan and gluten-free food) is the recently opened Mari Vanna, on the edge of WeHo on Melrose Place. Unfortunately it's not open for lunch on Saturdays but is for dinner.
Another foreign food option is Gardens of Taxco, again only open for evening dining. Forget the menu, your waiter will recite the evening's offerings to you. Mexico offers a wide variety of cuisine. Consider the food at Gardens of Taxco to be less about Taxco and more about Mexico City — in other words Mexican and cosmopolitan.
In a town with 227 restaurants at last count, if you've already chosen Asia de Cuba or Gordon Ramsay, your other Saturday night dining choices are many. If you're looking for more conventional but well-made foreign fare, consider Chi Lin, the most glamorous Chinese restaurant to open lately. Ago, Nonna and Cecconi's will give you a taste of Italy. Gorge and Lucques are two of the few "French" restaurants that wouldn't seem out of place in Paris. And a block out of WeHo proper is Crossroads, an upscale vegan restaurant.
[hr]
REKINDLING ROMANCE
[hr]
You love him (or her) dearly. But let's face it, after seven years, or 10, or 20, the spark no longer appears as quickly as it does on a good gas stove. West Hollywood is the perfect getaway spot for rekindling a romance, even for those of us who already live here. Just read the gossip blogs about those who travel from afar for that purpose — Calvin Klein hooking up with estranged boy toy Nick Gruber at the Chateau Marmont or Selena Gomez and Justin Bieber looking for love in all the wrong places.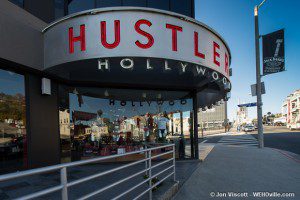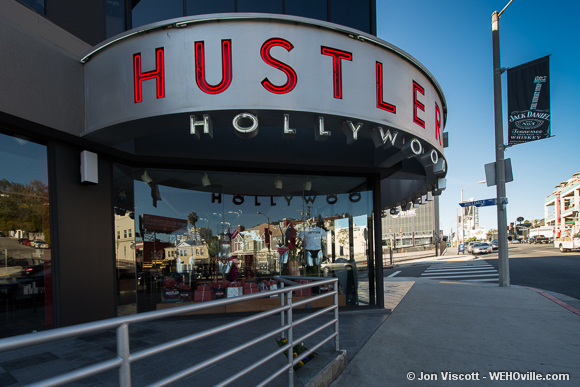 If you're going to devote 48 hours to rekindling a romance, you might consider the Chateau Marmont, which made NBC News.com's list of top 10 places where celebrities go to hookup. The Mondrian, the Andaz, the Sunset Tower, the London West Hollywood and the Pali House also would fit the bill because each offer luxurious accommodations you won't likely want to leave except for a quick trip to the Hustler boutique or the Pleasure Chest.
Both of those adult stores offer a variety of accoutrements designed to stimulate your, uh, imagination. Larry Flynt's Hustler Hollywood, on the corner of Sunset and Hilldale, is an open and airy emporium that includes a cafe when you're ready to take a break from exploring the vibrators and lubricants and adult videos that might take your relationship into previously unexplored territory. The Pleasure Chest, on Santa Monica Boulevard near Genesee, stocked with a similar array of products, also offers workshops with titles like "Spank Someone Happy" if you decide some advanced education might spark that passion more quickly.
Just remember, hard as it is to do, to turn that cell phone off for the duration of your stay. Why pursue virtual relationships, no matter how briefly stimulating, when the one you love is in bed beside you?
Looking for a more economical "staycation"? Check out our arts and culture "Budget Staycation"

here

.