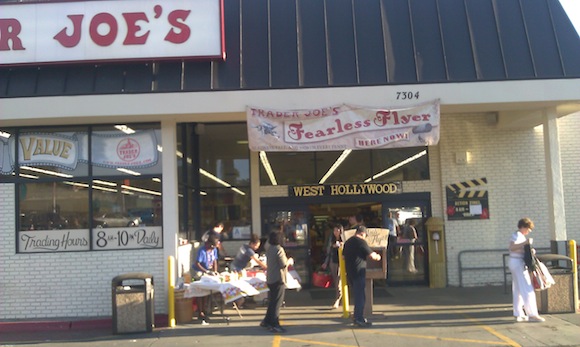 Editor's note: This story has been updated since it was first published.
After 28 years, the Trader Joe's Movietown Plaza closed its doors for the final time Saturday, but not without holding a goodbye cookout.
"We just wanted to say thank you to the community for their support," said Sandy Holm, "captain" (manager) of the grocery store at 7304 Santa Monica Blvd. at Poinsettia. "This has been such a great customer base for us, we wanted to celebrate their loyalty and say goodbye to them."
Setting up a grill in front of the store, Trader Joe's employees served hot dogs (beef or chicken) and vegan hamburgers for customers who came to the store for a final day of shopping. By day's end, the store had served over a thousand people.
"This is my favorite Trader Joes," said Pina Goldman, who lives just a few blocks away. "I've come here every week since moving here, sometime three or four times a week. Everyone is so nice. I'll miss them."
"This is the best Trader Joes around," said Andy Muller of Hollywood. "The store is bigger than most Trader Joes. The parking lot is big too. It's just really convenient. I can't believe it's not going to be here anymore."
The store set up white banners for customers to write farewell messages. Shoppers shared messages about their love for the store, its friendly staff and the many years they've frequented.
By 6 p.m., before shutting the doors for the final time at 9 p.m., the shelves were almost bare. Leftover non-perishable items will be moved to other Trader Joe's locations while perishable items will be given to groups feeding the homeless.
None of the employees will lose their jobs, Holm said. They're all allowed to transfer to other Trader Joes stores in the area.
Opened on Aug. 31, 1985, the Movietown Plaza location was the 15th Trader Joe's in the chain.
The Movietown Plaza shopping center is slated for demolition late this year. In its place will go a seven-story, mixed-use development with 370 residential units (including a building of 76 units for low-income seniors) and 32,300 square feet of retail space.
Developer Avalon Bay hopes Trader Joes will be one of the tenants when the new center opens in mid-to-late 2015, but no deal has been finalized yet.
In the meantime, there are six other Trader Joes within a three-mile radius of the Movietown Plaza location:
8000 Sunset complex (Crescent Heights Boulevard at Sunset)
Boystown (8611 Santa Monica Blvd. at Westmount)
8500 Burton complex (Burton Way at La Cienega)
175 S. Fairfax Ave. at 3rd (across from the Farmers Market)
263 S. La Brea Ave. at 3rd (across from Ralphs)
W Hotel Complex (1600 Vine St. at De Longpre)
Editor's note: A previous version of this story stated that the Movietown Plaza Trader Joe's was the third store in the company's chain. WEHOville relied on multiple Trader Joe's employees for the information, which it has since learned is incorrect. The Movietown Plaza Trader Joe's is, in fact, the 15th store in the chain, according to a corporate representative. WEHOville regrets the error.