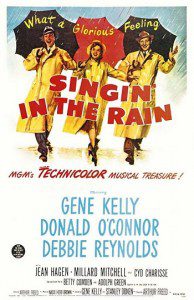 Actress Debbie Reynolds will attend an outdoor screening of her 1952 musical film "Singin' in the Rain" during the West Hollywood Book Fair on Sunday, Sept. 29.
The screening of the hit musical film in West Hollywood Park will follow a full day of free book fair events, including one featuring Reynolds. She will discuss her memoir "Unsinkable" at 5:30 p.m., then sign copies at the Book Soup booth.
Reynolds' book "offers a unique and deeply personal perspective on Hollywood and its elite, from the glory days of MGM to the present," according to a book fair news release.
The book fair, which begins at 10 a.m., takes place at West Hollywood Park and at the library. It includes workshops, panel discussions, a culinary pavilion and other programming.
The lineup for this year's book fair includes award-winning novelist T. C. Boyle, producer/director William Friedkin ("The Exorcist"), producer Lynda Obst ("Sleepless in Seattle"), novelist Marisa Silver ("Mary Coin") and Dead Kennedys drummer D. H. Peligro.