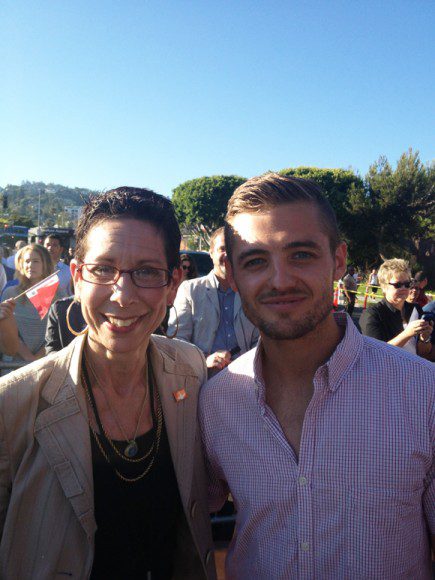 When he's not on the road with the Los Angeles Galaxy, out soccer star Robbie Rogers now hangs his cleats in West Hollywood.
His move to WeHo earlier this year came amidst a maelstrom of activity since he came out to his family in October and to the world in February.
In the span of less than a year, he revealed that he is gay, retired, un-retired and moved across the pond from London back to his native SoCal.
Since moving here, Rogers has joined revelers at L.A. Pride, his first ever Pride event. He also attended the WeHo rally celebrating the Supreme Court rulings on Prop 8 and the Defense of Marriage Act (DOMA). That, he said, was "a day I'll never forget."
It's basically been a very gay year, which is part of the reason he relocated to the gayborhood.
"I wanted to be around that at this time in my life," Rogers said. "The community here is just very open and accepting."
Rogers also has a lot of friends in WeHo, and he said it is close (but not too close) to his family.
He also thinks that WeHo has a "great energy" and a lot of friendly people.
"I love living here," he says. "I love a lot of what West Hollywood has to offer."
Rogers says he enjoys being able to walk to many restaurants and coffee shops; Alfred's is one of his favorite haunts. (You might also spot Rogers at Fred Segal or Kitson, two local stores that carry his Halsey line of men's trousers.)
As for the nightlife and the dating scene, the single soccer pro said he doesn't really have time to partake. He's often on the road with the Galaxy. When he's home, he said, his priority is to spend time with his family and friends, all of whom were supportive when he came out.
"I was obviously very afraid," he said. "Everyone was amazing … I feel quite blessed to have that in my life."
Rogers also counts among his blessings the opportunity to play in the 2008 Olympics. He said that representing the U.S. at the summer games in Beijing was one of the highlights of his career.
Rogers penned a USA Today column arguing against a boycott of the 2014 Winter Olympics in Sochi, Russia. Calls for a boycott have followed the passage of anti-LGBT laws in Russia.
"Athletes really suffer if there's a boycott," Rogers said. "Being an Olympian is such an honor. I wouldn't take that away from anyone."