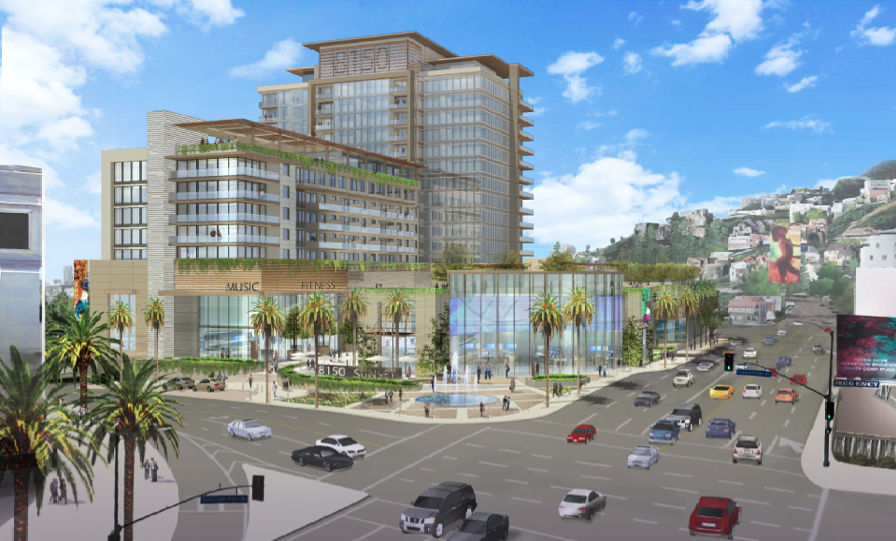 Townscape Partners has filed an application with the City of Los Angeles Planning Department proposing to demolish the existing shopping center at 8150 Sunset Blvd. at Crescent Heights, which serves as the eastern gateway to WeHo's Sunset Strip and once housed the iconic Garden of Allah, and redevelop the site into a mixed-use project.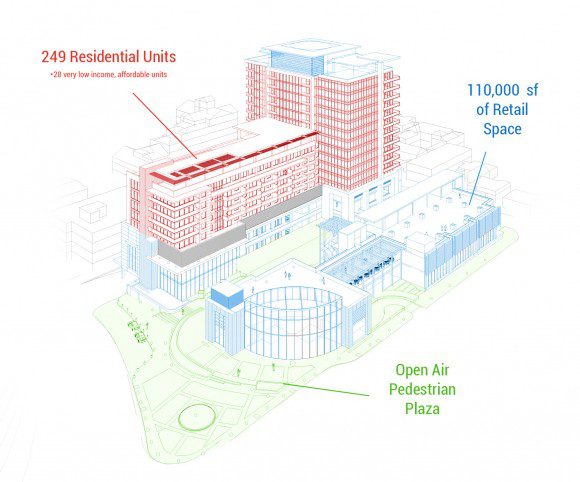 The proposed project would span 2.56 acres and include 249 total apartment units, including 28 units for "very low income households" (which means for those who make no more than 30 percent of 50 percent of the LA County median income, which is around $56,000), and 111,000 square feet of commercial uses, including a 25,000-square-foot grocery store, 22,000-square-foot area for restaurants, 50,000-square-foot area for retail, 8,000-square-feet area for fitness and a 5,000-square-foot bank.
"We believe our project is fitting of a site of such prominence," said Townscape Partner's principal Tyler Siegel, referring to the Garden of Allah, which occupied the property until 1959. "Our project will stand as modern gateway to Hollywood and the Sunset Strip."
Two apartment buildings have been proposed. One would be a 108-foot-high, nine-story apartment building along Crescent Heights. The second would be a 191-foot-high, 16-story apartment building along Havenhurst Drive.
Townscape Partners also proposes a seven-level parking structure (three levels underground), which would include 849 parking spaces (295 for the residential units and 554 for commercial parking). The proposal requests four conditional use permits for restaurants, and the sale of alcohol from 8 a.m. to 2 a.m., along with outdoor dining. A substantial amount of the outdoor dining would be on the buildings' rooftops.
The developers are currently moving forward with doing a draft environmental impact report (EIR), and will hold a "scoping meeting," which allows for public comments, in early October. Once a date is determined for the meeting, mail notices will be sent to residents within 500 feet of the project, and the meeting details will be posted on the Los Angeles city website. In the proposal, filed in August, Townscape says it expects to start the project in 2014 following approval, with completion in 2017.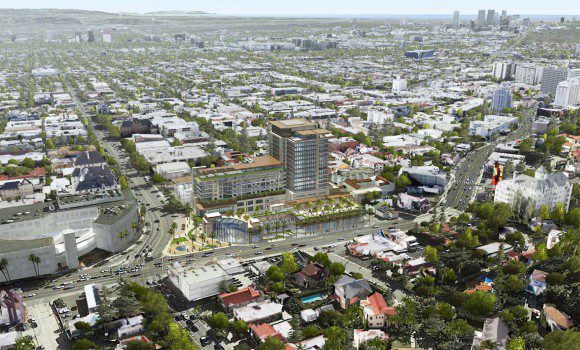 The iconic property was once home to the Garden of Allah, which was built in the early 20th century as the home of actress Alla Nazimova. During the 1920s through 1950s, actors, performers and writers called the Garden of Allah home. The property was demolished in 1959, and, according to urban legend, was the inspiration behind the line in Joni Mitchell's song "Big Yellow Taxi," "They paved paradise and put up a parking lot."
Townscape also proposes to develop over the traffic island at Sunset and Crescent Heights. The island was once the location of Pandora's Box, a famous rock 'n' roll nightclub and center of the Sunset strip curfew riots in the mid-1960s.
"Today, the traffic island is a barren desert with a palm tree or two on it," said Gabe Kramer, a communications consultant for the project. "The Garden of Allah site is a strip center, built in 1960, and has stayed that way for a long time. These guys are committed to bringing interest back to the site. They want to do that in a respectful way, whether that be anything found under the pavement brought to light, or a dedication to the Garden of Allah."
According to Kramer, the project has been "relatively well-received" by the greater community.
Tonight, the Hollywood Hills West Neighborhood Council will hold a 5:30 p.m. meeting to discuss the project at Will and Ariel Durant Library, at 7140 Sunset Blvd. in Hollywood.
"The NBCUniversal (Evolution Plan) redevelopment project took seven years," said Orrin Feldman, vice present of the Hollywood Hills West Neighborhood Council. "We really learned as a group how to focus on major development issues. Compare this to NBCUniversal, and we've had a pretty good introductory course."
Kramer says the developers also hope to engage with West Hollywood residents, as well as the Bel Air-Beverly Crest Neighborhood Council.
"Over the next six to eight months, we'll have that conversation with the community," Kramer said. "We have 10,000 square feet of open space. What do you want to see there? A dedication to the Garden of Allah? Pocket Park? Literally, you paint it, we'll see what we can do there."
Currently, the site, which is just outside West Hollywood's borders, is home to Suncrest Plaza, which includes a number of small retailers, such as Subway and El Pollo Loco, and McDonalds and a Chase Bank.
Townscape Partners, which bought Suncrest Plaza strip mall, at 8128-8178 W. Sunset Blvd. just below Chateau Marmont, last year, has been embroiled in a lawsuit dispute with a number of the retail tenants, who have claimed new parking fees established by the landlord were part of a plan to put them out of business to make room for a mixed-use project. Townscape began charging customers $3 per 15 minutes for parking in March, but has since stopped charging after it was told to do so by the city of Los Angeles.
According to Kramer, gates, which were previously installed for paid parking, will soon be removed.
In West Hollywood, Townscape Partners has also proposed a controversial development plan at 8899 Beverly Blvd. between Robertson and Doheny. West Hollywood West neighborhood residents have organized to fight that proposal, which would expand a commercial building ("ICM building") and add town homes and affordable-housing units nearby.