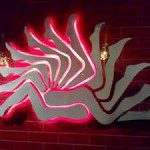 Glory, glory hallelujah!
The Sixty Percenters — the straight folks of West Hollywood — may sometimes feel overwhelmed by the events staged for and subsidized by the city for the Forty Percenters: LA Gay Pride, Go Go Appreciation Day and the Tom of Finland Art Fair, to name a few. But we hear that more than a few WeHo straight people are buzzing about their chance to proclaim their own hetero pride at an event with no city subsidy that likely will be attended in a demonstration of solidarity by more than a few of their gay neighbors.
That event is Gloryhole, the 42nd anniversary celebration of the Pleasure Chest, the adult emporium at 7733 Santa Monica Blvd. near Genessee that is the flagship of the chain, which also has locations in Chicago and New York City. While the gay crowd is perhaps more likely to shop 665, the Pleasure Chest serves a diverse audience, with a lot of, uh, equipment that is designed for heterosexual amusements.
Hosted bv Lenora Claire, Luke Nero and Andrés Rigal, Gloryhole claims it will offer "a peek behind the red curtain, giving guests a chance to mix and mingle with the sexual glitterati. Equal parts tease and sleaze, Gloryhole will let the curious see what goes on after hours at one of Los Angeles' most storied locations."
The night will include a hosted bar and music and frozen treats from Sweet Beats. There will be a XXX gloryhole installation (if you don't know what that is, we'd suggest you google it, without Mom or Dad or the kids around) with performers April Flores, Damon Holzum, Jiz Lee, Allison Moon, Reid Mihalko, Mistress Melissa and Pony Lee. For those of you feeling a bit undisciplined, there also will be spanking stations staffed by Mistress Justine Cross and Dungeon West. And there will be aerial pole dancing with Kitty Cadillac, Sherry Bomb and Sin Fisted, rope art by Midori and lap dance roulette.
"Every day, we get to speak to people with identities and desires that span the sexual spectrum," says Kristen Tribby, Pleasure Chest's director of creative development and strategy. "Gloryhole is our chance to celebrate that diversity."
For this third edition of the annual event, The Pleasure Chest has teamed up with sponsors Fun Factory and Aneros and will raise funds for AIDS Project Los Angeles and its upcoming AIDS Walk. Attendance is free, but the party is invitation only and restricted to those 21 and older. Those interested in attending may RSVP by email to gloryhole@thepleasurechest.com. If this hasn't convinced you to attend, you might want to take a peak at LA Weekly's slideshow of last year's event.