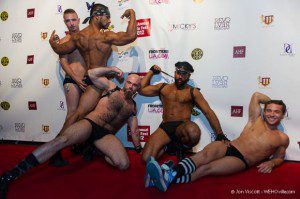 The third annual celebration of go-go dancing, which is said to have originated in West Hollywood, will be held on Nov. 9 as part of the opening reception for a Tom of Finland art exhibition at the Museum of Contemporary Art (MOCA) branch at the Pacific Design Center.
"It's really exciting," said West Hollywood Councilmember John D'Amico, who came up with the idea of Go-Go Dancer Appreciation Day in 2011. "This is the first-ever Tom of Finland display at MOCA. It seemed natural to tie go-go dancing to the opening of the exhibit."
For its first two years, Go-Go Dancer Appreciation Day was held on the final Saturday in October as a pre-event to the city's giant Halloween Carnival in Boystown, which attracts an estimated one million people.
D'Amico had been pondering ways to improve the go-go event for its third year, so when MOCA officials contacted him about the Tom of Finland exhibit, the idea of combining the two came to mind.
"It's joining high-brow culture with low-brow culture," D'Amico said. "It should be a lot of fun combining the two."
Considered to be some of the most iconic representations of late 1950s to late 1980s gay culture, Tom of Finland's erotic drawings are known for their hyper-masculine imagery and depictions of gay leather culture. Tom of Finland, whose real name was Touko Laaksonen, lived in Los Angeles in the 1970s. The Tom of Finland Foundation, which preserves and promotes erotic art work, is headquartered in Echo Park.
The MOCA exhibit will also feature the male erotic photography of Bob Mizer, a pioneer of male physique photography during the 1940s and 1950s. The exhibit will run Nov. 2 to Jan. 26 and will have several related panel discussions.
Details about where the go-go dancer event will be held haven't been finalized, D'Amico said. The first two go-go events were held on Larrabee Street at Santa Monica Boulevard, but this year it may move to West Hollywood Park or to the PDC courtyard.
D'Amico expects to have several Tom of Finland-themed contests among the dancers competing in the various go-go events. Frontiers Magazine will again produce the event, D'Amico said.
Last year's Go-Go Dancer Appreciation event attracted an estimated 500 people. By tying the event with the exhibit's opening reception, D'Amico hopes the number of people attending will double.
"It's cross pollination; bringing in two different groups," D'Amico said. "The MOCA reception will bring people to the go-go dancer event who wouldn't have otherwise gone to it, while the go-go dancer event will bring people to the MOCA exhibit who wouldn't have gone to that."
Moving the day to November could also be a boom for businesses in Boystown.
"November and December are always slow," said Larry Block, owner of the Block Party clothing and gift shop at 8853 Santa Monica Blvd. at Larrabee. "After Halloween, it's really dead around here."