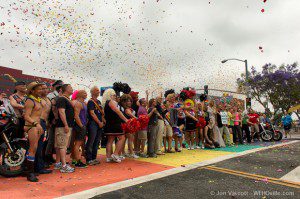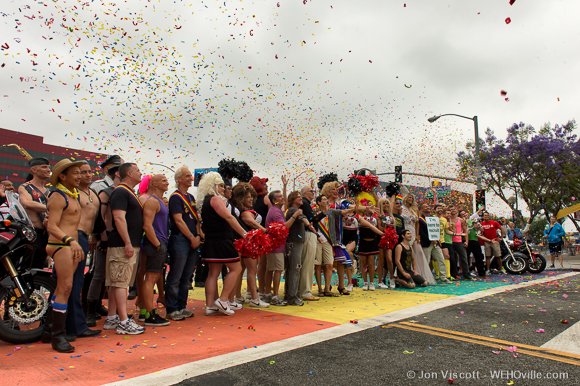 West Hollywood's Lesbian and Gay Advisory Board (LGAB) could be holding public meetings to get input for naming the intersection of Santa Monica and San Vicente boulevards by the middle of October.
During its Thursday night meeting, LGAB voted unanimously to request approval from the City Council to proceed with the public meetings. The Council will likely discuss the matter at its Oct. 7 meeting.
"If the council approves it, we're ready to have informal meetings. Some of the local businesses have agreed to host the meetings," said LGBA co-chair Robert Gamboa. "Later, we'll have town-hall style meeting for more public input and there'll also be an online survey for people to make suggestions for a name."
Home to the city's famous rainbow crosswalks, the intersection is considered the heart of the gay entertainment district. Depending on how many names are submitted, LGAB will recommend 10 to 20 names to the council, which will then make a final selection.
In other matters, LGAB voted to send an invitation to the city's Russian Advisory Board to have a joint meeting to discuss the anti-gay laws the Russian parliament passed earlier this summer. If the Russian Advisory Board accepts the invitation, that meeting will likely be held in November.
Among the issues LGAB wants to discuss with Russian Advisory Board are West Hollywood granting asylum to LGBT Russians, the 2014 Winter Olympics being held in Russia, taking a stance on boycotts of the business and products and ways to avoid possible local tensions affecting businesses.
"Ultimately, we want to have a town-hall community forum to discuss the situation in Russia," Gamboa said. "The first step toward doing that is meeting with the Russian Advisory Board."
LGAB will also co-sponsor a public forum with the city's Transgender Advisory Board to educate people about transgender issues. The board hopes to have that meeting sometime in November, which is Transgender Awareness Month.