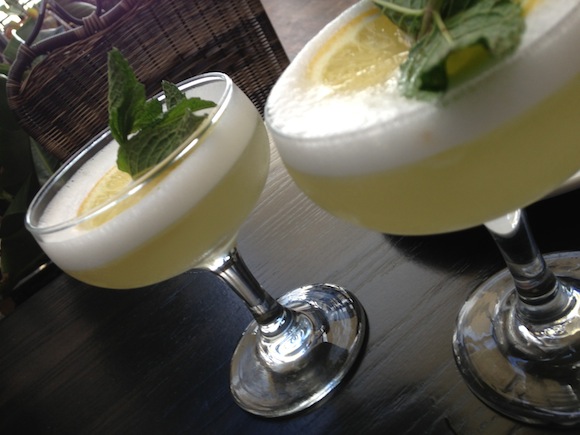 Within days of one another, both Pearl's Liquor Bar and State Social House opened their doors on the Sunset Strip. But which one is worth your time and money?
Pearl's sits between the Whisky a Go Go and Rock & Reilly's on the corner of Sunset and San Vicente boulevards where once stood Duke's Coffee Shop, a famous rock 'n' roll brunch hangout where goth waiters with eyeliner and coke-spoon pinky nails served up hash and eggs to regulars.
For decades Duke's flourished, but now the guys who own the adjacent Rock and Reilly's have taken over the abandoned space with Pearl's Liquor Bar, recreating an old Hollywood speak-easy with modern touches: white muslin, dark wood floor, white marble bar, Edison bulbs and Chesterfield banquettes. Dine in the soft glow within or on the two-level patio overlooking Sunset Boulevard.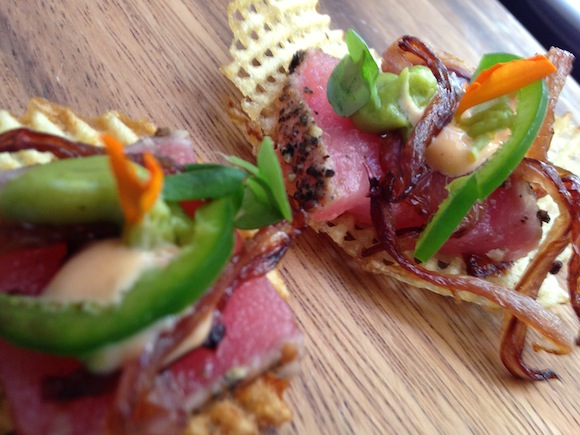 The small-plate menu is sleek, ambitious and well executed, but the drinks are pricey and bizarrely small. Though the cocktails may be authentically expensive in keeping with their prohibition-themed watering hole, I suspect the public would not mind if Pearl's were to deviate from such meticulous detail.
Case in point: the Villa Nova. This diminutive draught is made with Pavan Liqueur, Nolet's Gin, Cucumber, Lemon and topped with frothy egg whites. It is delicious, but disappears as if it were an amuse-bouche. My server, Oz, ebullient and attentive in her flapper's outfit, was quick to offer me another within minutes, but I politely declined in good conscience and switched to a wheat beer ($8).
As for the food, try the Tuna Crudo with Burnt Onions, Avocado Puree, Jalapeno, Potato Gaufrettes ($14). Although an acid element was missing from the dish, the tuna is high quality and the presentation is elegant. The Burrata and Grilled Peach Salad, Fig Balsamic, Smoked Micro Basil, Grilled Ciabatta ($13) is a great hot weather starter, all the ingredients balanced and plated well. And though I am not a fan of flatbread pizzas, Pearl's Smoked Pepperoni Flatbread ($14) was irresistible with thick-cut pepperoni, lots of mozz and chunky roasted tomato.
I finished up and walked a block away to the corner of Sunset and Holloway, where Red Rock recently served up bangers and mash in a rustic, no-frills pub and where long ago Woody Harrelson's adjacent oxygen bar, O2, once raised eyebrows in the late 90s. There I found the long-awaited State Social House, a multi-tiered experience with a restaurant featuring international small plates, a cigar lounge and an upstairs piano bar.
Entering, I noticed a lack of a cohesive style, the place decorated sparsely like someone's nice basement. There is rap music playing too loudly from the overhead speakers. Unfortunately, the music doesn't come off as hip, but as an incongruous affectation given its address and clientele. I belly up to a high-top table beside a pair of boisterous frat boys who are too drunk too early.
After all, the beer cocktails here are quite good. The Ginger is a pint glass full of pale ale, ginger beer and lemonade. The house's Michelada is a mash-up of the Mexican and Cuban versions of the Latin beer cocktail, the red tinge of the tomato juice paled by lime and a touch of horseradish. Both concoctions run $8.
A promising start, but the food fell short. Some dishes were fine enough, but even those were inexplicably altered from their descriptions in the menu.
For instance, the Crispy Buffalo Wings with Celery Salad and Crumbled Roquefort ($11) seemed promising, and the crispy drumettes were an exemplary version of the upstate New York favorite, but where was this celery salad and crumbled blue cheese? Alongside the chicken, a pile of mixed greens sat disconsolately beneath a gooey dressing too heavy for its leaves.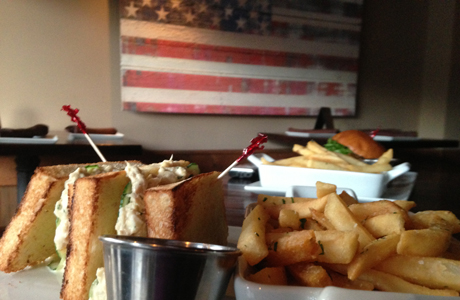 I couldn't blame my server, Sarah, who could not have been sweeter and more attentive. In casual conversation she let slip that Executive Chef Vernon Cardenas (formerly of Innovative Dining Group and Pink Taco) took a catering gig for the night and was not in the kitchen, apparently unconcerned with State Social House's opening weekend. This didn't bode well in the end for the restaurant. Dishes that never should have made it past the swinging doors began hitting my table all at once until my little high-top table was obscured by plates. As you may remember from my piece last month (Top Five Things That Make Me Run Screaming From a Restaurant) the "pile up" is not the way to my heart.
The Tuna Fish Sandwich on White Bread with Mayonnaise, Chopped Boiled Egg, Pickles, Banana Peppers and Cucumbers ($12) tasted like every tuna sandwich you have ever had – not necessarily a good thing when you're paying $12. Though, the accompanying fries were hot, salty and delicious. This detail will gain importance as you read on.
The Whiskey Burger with Jameson Onion Jam, Arugula, Gruyere and Special Sauce ($14) was an unappetizing anachronism from five years ago, a bad version of the famous Father's Office burger from Santa Monica. Topped with soggy arugula, a brioche bun swallowed the barely visible patty. The other advertized flavor elements were indistinguishable. And though this plate hit the table alongside the tuna sandwich with its delicious fries, the fries accompanying the burger were forsaken, cold and limp. I figured this would be the low point of the evening, but I had yet to try the cauliflower.
The Crispy Cauliflower with Jalapeno Sesame Aioli ($7) sounded good, and undoubtedly it would have been had the deep fryer been turned up to 375 degrees. Instead, I received hot and oily lumps of vegetable beside a dipping sauce that sounded like it should sing, but could not carry a tune.
The only dish I really enjoyed was the White Shrimp Ceviche ($11). The shrimp came piled on three mini tortillas, a la tostada, and the generous chunks of shellfish were happy in their piquant, citrus dressing. This was as good as anything you would get in the finest restaurants of San José del Cabo.
Yet, in the end, the decision was clear. In the battle of these two new pubs, Pearl's wins by a knockout.
To recap, avoid Pearl's tiny house drinks. Start at Rock and Reilly's for cocktail hour and simply move next door to Pearl's for wine or beer, and a good meal with a view of The Strip.
Conversely, drink at State Social House and enjoy the charming piano bar upstairs with its diamond-paned windows and club chairs, but eat there only under duress. State Social House's kitchen will fall into a groove one of these days, but that day is yet to come.