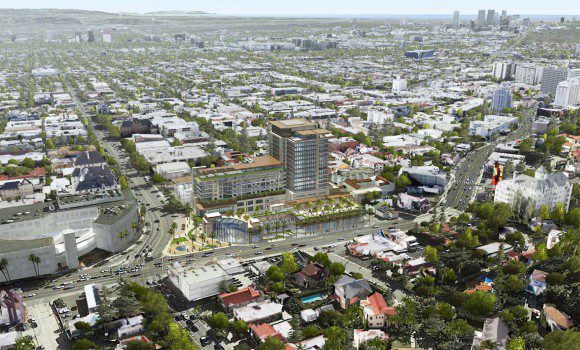 The Hollywood Hills West Neighborhood Council will hold a public meeting Wednesday, Sept. 25 to receive feedback from the community regarding the proposed mixed-use project at 8150 Sunset Blvd. at Crescent Heights.
A representative from developer Townscape Partners, which proposes to demolish the existing shopping center at the site, will be at the meeting to answer questions. The meeting will run from 6:30 to 9 p.m. at the Cinematographers Guild, at 7755 Sunset Blvd. at Genesee.
The council is organizing the event, which it's calling a "pre-pre-scoping" meeting, as a precursor to the developer's own "scoping meeting" in October. Scoping meetings are held to give the public a chance to give feedback before a developer moves forward with a draft environmental impact report (EIR), which considers what effect the project would have on the environment, including traffic, noise, endangered species and "community beauty." An EIR must be submitted before a project can be approved.
The proposed project would be located at the eastern gateway to WeHo's Sunset Strip, once home to the iconic Garden of Allah. It would span 2.56 acres and include 249 total apartment units and 111,000 square feet of commercial uses.
Two apartment buildings have been proposed. One would be a 108-foot-high, nine-story apartment building along Crescent Heights. The second would be a 191-foot-high, 16-story apartment building along Havenhurst Drive.
Townscape Partners also proposes a seven-level parking structure (three levels underground), which would include 849 parking spaces (295 for the residential units and 554 for commercial parking). The proposal requests four conditional use permits for restaurants, and the sale of alcohol from 8 a.m. to 2 a.m., along with outdoor dining. A substantial amount of the outdoor dining would be on the buildings' rooftops.
On Wednesday, Sept. 11, the Hollywood Hills West Neighborhood Council addressed the project at its regularly scheduled Planning, Land Use and Management (PLUM) meeting.
Concerns included parking (specifically the large number of "compact" spaces), noise that might be created by rooftop dining and whether lanes would be removed on Sunset Boulevard.
Susana Miller, a member of the West Hollywood Preservation Alliance, attended the meeting, along with Gabe Kramer, a communications consultant for the project. Owners of the El Pollo Loco at the current Suncrest Plaza strip mall, which would be demolished, also attended.
Townscape Partners, which bought Suncrest Plaza last year, has been embroiled in a lawsuit dispute with a number of the retail tenants at the plaza, including El Pollo Loco. They claim new parking fees established by the landlord were part of a plan to put them out of business to make room for a mixed-use project. Townscape began charging customers $3 per 15 minutes for parking in March, but has since stopped charging after it was told to do so by the city of Los Angeles.
According to Jack Henningsen, a lawyer for El Pollo Loco and a number of the other retail stores, two clients have settled with Townscape Partners to buy them out of their leases, beginning as early as next summer. El Pollo Loco currently has a lease with options that span another 10 years, according to Henningsen.
Townscape Partners has claimed that El Pollo Loco is in "wrongful possession" of its site, according to Henningsen, who called the claim "utterly ridiculous."
"If the landlord wants EPL to leave, it will need to negotiate a fair buy out," Henningsen said. "Thus far, it has refused to do so.  Additionally, there is no way the city will issue building permits until this issue is resolved."
Henningsen continued, "If the landlord would treat my clients fairly, I don't think we would have any interest in standing in the way of their plans."