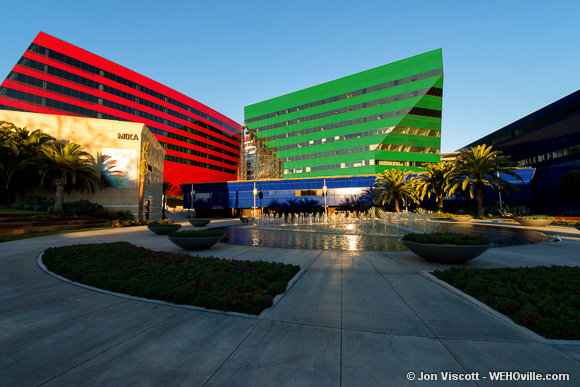 Art lovers will flock to the Pacific Design Center's Blue building tomorrow for openings of exhibits at 15 different galleries and at MOCA PDC. The openings, from 5 to 8:30 p.m., include over 20 large format "abstractions" by contemporary architectural photographer Durston Saylor, a retrospective of work by the late abstract modernist painter Elizabeth McCord and sculptures by Molly Larkey.
MOCA Pacific Design Center is hosting "Within The River of Time is My Mind," a site-specific installation by Los Angeles-based Chris Johanson organized by guest curator Andrew Berardini.
After the opening, guests are invited to Red Seven on the first floor of the Green Building for cocktails and food.
The galleries, artists and suites where the exhibits are located are listed below. All are in the Blue building at 8687 Melrose Ave. at San Vicente. Most galleries also are open from 11 a.m. to 6 p.m. Mondays through Fridays. MOCA Pacific Design Center is open from 11 a.m. to 5 p.m., Tuesdays through Fridays and from 11 a.m. to 6 p.m. on Saturdays and Sundays.
AGENCY
Gallery 1: Brendan Threadgill: Promise of a Golden Future
Gallery 2: Nicolau Vergueiro: Useful Landscape
B275
[hr_dotted]
ANDY ROMANOFF
Seeing the PDC: May – November
B255
[hr_dotted]
ANOTHER YEAR IN LA
Osman Khan: It's All the Rage
B267
[hr_dotted]
ART MERGE LAB
Yeonju Sung
B257
[hr_dotted]
BLUE LOBBY
Molley Larkey
[hr_dotted]
DURSTON SAYLOR
Circumstantial Evidence
B231
[hr_dotted]
GREEN LOBBY
Ronald Bladen
[hr_dotted]
HUDSON|LINC
Blurred Edges
Curated by Nick Lisica and Stephen Wolkoff
B215
[hr_dotted]
INDUSTRY GALLERY
Maarten de Ceulaer: Mutation
B270
[hr_dotted]
LA PRINT SPACE
Local Matter – Prints from the Jerusalem Print Workshop
B273
[hr_dotted]
Micucci Arte
Mario Dondero Photography
B209
[hr_dotted]
THE PROSPECTUS
Young Kyun Lim
Nam June Paik
B226
[hr_dotted]
SEE LINE GALLERY
Elizabeth McCord Paintings
B274
[hr_dotted]
MARY YOUNAKOF
B239
[hr_dotted]
RALPH PUCCI
Paul Solberg: Flowers
B203
[hr_dotted]
YOUNG PROJECTS
Blastomere B230
Marina Zurkow: Oil & Water B210