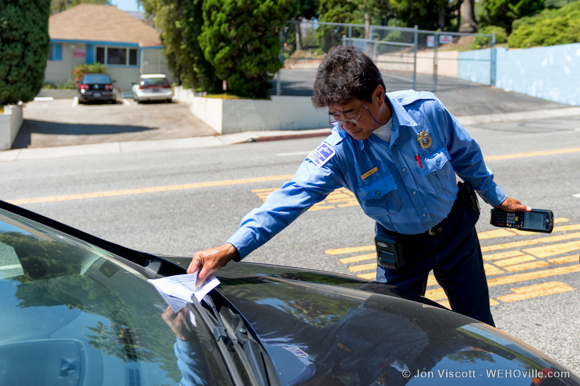 With the opening of the five-story library parking deck and the extension of parking meter hours, the West Hollywood City Council has approved reexamining the permit parking requirements in the West Hollywood West and Tri-West neighborhoods.
In 2006, the city changed some of the residential and commercial parking permits regulations in its district 1 and district 2 parking zones, allowing residents to park on either side of the street during the day, but only allow commercial and visitor parking on one side of the street. The city promised the neighborhoods it would reexamine the parking permits after the parking deck was completed to see if the deck affected parking patterns.
District 1 is the West Hollywood West area, consisting of the streets south of Melrose Avenue and north of Beverly Boulevard between La Cienega Boulevard and Doheny Drive.
District 2 is the Tri-West area consisting of the streets south of Santa Monica Boulevard and north of Melrose, between La Cienega and San Vicente boulevards.
Spencer Consulting Services will sample the occupancy rates for those areas and possibly make recommendations for changes. The cost of the survey is expected to be roughly $50,000.