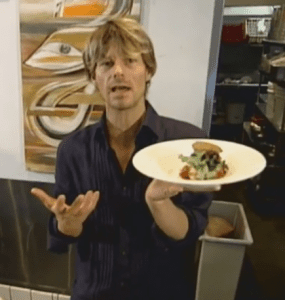 As the holidays approach (it's never too early to mention them), so do the opportunities to expand one's gut.
But for those looking to stay fit, two more healthy dining options are on their way.
First, Planet Raw, formerly in Santa Monica, is reportedly opening this week pending health inspections, according to Eater LA. The meat-free eatery, owned by Juliano Brotman, has relocated to the Pavilions shopping center at 8951 Santa Monica Blvd. at N. Robertson. Planet Raw takes over for the shuttered Fresh East.
Planet Raw, which extols the benefits of an all organic, raw and vegan diet, offers all kinds of unhealthy-sounding foods that are actually good for your body. Here's a sampling of what's on the menu: deep dish Chicago pizzas, 'cheeze' enchiladas, lasagna, Hollywood nachos, steaks and 'meet and potatoes.' Beyond supplements, super foods and fruit, there's dessert too.
See how Brotman does it in this video here. See the menu here.
Planet Raw is open daily 9 a.m. to 3 a.m. So, after a night of clubbing you can ditch all those westside pizza options for healthy cuisine.
In other news, WeHo is getting another Earthbar.
Earthbar, which already serves organic superfood smoothies, cold pressed juice and supplements from its WeHo flagship store at 8365 Santa Monica Blvd. near Kings, is adding a second location just four blocks away on La Cienega Boulevard and Holloway Drive, below Wa Sushi. According to Eater LA, the new Earthbar will be an express version of the full thing, but will still sell juices, smoothies and a few food items. The launch, reportedly, is coming with the next two weeks.