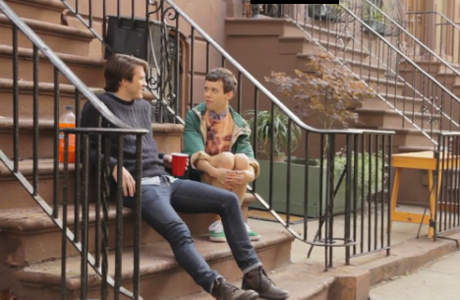 A ROFL comedy that follows 3 siblings—Henry, Roman and Madison—in 3-episode arcs, The 3 Bits will keep you wanting more. Here's the lowdown on each sibling's "story" in this new gay web series:
The 3 Bits: Henry
What's the best way to plan an orgy? Henry Bits (Cole Escola) and his handsome best friend, Grant (Salvatore Infantino—even his name is dreamy), try to find out. The pair uses Facebook to lure their friends and surprise them with a sex party. While Henry tries to fulfill his orgy dream, Grant seems to struggle with the idea of getting naked with the others. A hilarious take on friendship and gay dating, Henry's 3-episode arc will have you wishing your life was this interesting.
The 3 Bits: Roman
Roman Bits (Margaret Singer) has a new company: she used to sell weed, now she pulls them. A darker comedy than her brother Henry's arc, Roman's arc follows her as she gets into trouble when the business she's trying to leave behind comes back to bite her. Dealing with rabbit-masked thugs and sexually curious housewives is easy; her stressful relationship with Kelly (Lola Albright) is another story. Amidst all the drama are some interesting scenes about gender identity, lesbian sex and family expectations. A tense take on a drug-dealer reborn, Roman's 3-episode arc will be sure to keep you awkwardly laughing.
The 3 Bits: Madison

–

Coming Soon

Sadly, the series has yet to release any episodes on Madison, but we expect her arc to be just as wacky and funny as her siblings'—just with some added "single-motherhood."

Follow the series on Facebook.com/the3bits and Henry Bits on Twitter @HenryBits for updates.

[hr]

[hr]
Watch the First Episode:
Henry:
Roman: