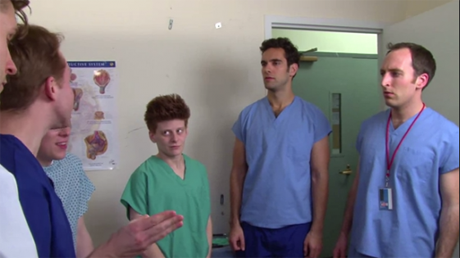 What happens when your whole life revolves around the prostate? Gay's Anatomy tries to find out by following a team of urology interns at a New York hospital.
There's Mark Merriman (Bobby Hodgson), a sweet, handsome Harvard grad; Mark Weston (Will Petre), a cocaine-induced doctor who's playing with his sexuality; and Jim Gable (Max Jenkins), a preening genius from UC Berkely who wears his heart on his "frilly pink sleeve." The doctors aren't all about the male genitalia, as the gay web series finds Merriman trying to win the affection of Weston, Gable trying to figure out who's gay while rejecting the adorable Eddie DeGrazio (Jim deProphetis), and the team constantly dealing with their exceedingly strict boss and a fellow intern who seems to be racist, sexist and culturally insensitive all at the same time.
With solid characters and creative takes on how urology can be made comedic (and gay), Gay's Anatomy is sure to keep you laughing with its Office-like interview style. We particularly enjoy its foray into issues of gender and sexuality through the character of Casey Blunt (Becca Blackwell), Marc M.'s roommate and self-described "butch lesbo." Created by Karina Mangu-Ward and Bobby Hodgson.
Follow the series on Facebook.com/Gays-Anatomy-a-web-series and on Twitter @Gays_Anatomy for updates.
[hr]
[hr]
Watch the First Episode: