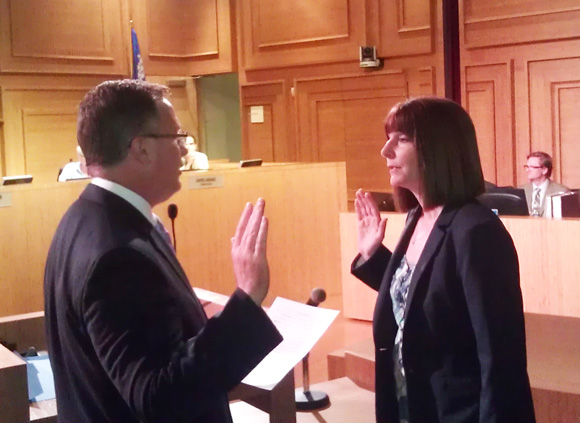 Author and activist Heidi Shink officially joined the West Hollywood Planning Commission Thursday night as Councilmember Jeffrey Prang administered the oath of office to her.
"I'm thrilled to join this incredibly esteemed group of colleagues on the Planning Commission," Shink said in her acceptance speech. "I'm looking forward to bringing my expertise, my enthusiasm and energy to short- and long-term planning and to serving neighbors in this incredible urban village that we all call home."
Shink told the commission that after coming out as a lesbian to her family, they kicked her out of their house.
"I was left to search for a place I could call home," Shink said. "Not for a place that I could hang my hat and live, but actually call home. I found that right here, 20 years ago, right here in West Hollywood. I was looking for support and community, which I found in abundance, but the city offered so much more than that."
Shink, who is rumored to be running for City Council in 2015, said she loves the unique and historic character of the city from the design and scale of the buildings to the layout of the parks and open spaces.
"I've been a renter in the Mid-City. I've been an owner on the Eastside for the past seven years," Shink said. "I work here. I go to restaurants and shops here. I met my wife of 18 years here. So, the progress of this city actually means the world to me as does preserving and protecting the unique character that makes West Hollywood West Hollywood."
Shink previously served for two years as Prang's appointee to the city's Human Services Commission.
"I'm sure she'll make sound and wise decisions that we have come to expect from our Planning Commission," Prang said.
The other commissioners also welcomed her during their opening comments.
"We don't always agree, but we spend a lot of time on thoughtful discourse," Commissioner David Aghaei said. "That's what makes this so much fun. So welcome."
"We have a lot of camaraderie here," Commissioner John Altschul said. "I know you'll have a wonderful time in your years here."
Commissioner Sue Buckner told her it was good to have another woman on the commission
Shink joins the seven-member commission as an at-large appointee, approved by a majority of the council members.
She replaces Alan Bernstein who served on the commission for five years. He resigned in March after moving to a home in Hancock Park. City regulations require that members of the Planning Commission make their primary residence in city limits.