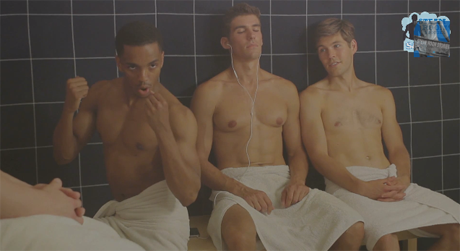 Premiering every Wednesday on gwistTV, Steam Room Stories starts and ends with a great premise: naked guys talking in a steam room.
Alright, they're wearing towels, but they're still fun to look at! More of a collection than a gay web series, Steam Room Stories features multiple episodes where workout buddies talk about a range of topics, most of them gay-related: Boys in the Bathhouse; Otters, Cubs and Bears, Oh My!; Gay Sex with Straight Men; Manscaping; and The Gay Hankie Code, just to name a few. The collection of episodes are sure to make you laugh, and if not, well, at least you can look at some handsome men.
Follow the series on Facebook.com/steamroomstories and on Twitter @SteamRmStories for updates.
[hr]
[hr]
Watch 'Best Gay Pick Up Lines:'