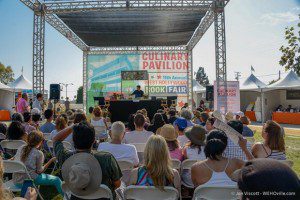 The "Book Ferry," a free shuttle service, will run down Santa Monica Boulevard during the West Hollywood Book Fair on Sunday, Sept. 29.
The shuttles will run every 15 minutes from Plummer Park down Santa Monica Boulevard from 9:30 a.m. to 6:30 p.m., and will stop at every metro bus stop.
The fair will run from 10 a.m. to 8:30 p.m. at the West Hollywood Library and West Hollywood Park, at 625 N. San Vicente Blvd. between Santa Monica and Melrose.
The last shuttle to Plummer Park will leave West Hollywood Park at 8:45 p.m. following the movie screening of "Singin' in the Rain."
Parking is also available at the Pacific Design Center for $10. For more information, call (323) 848-6846.