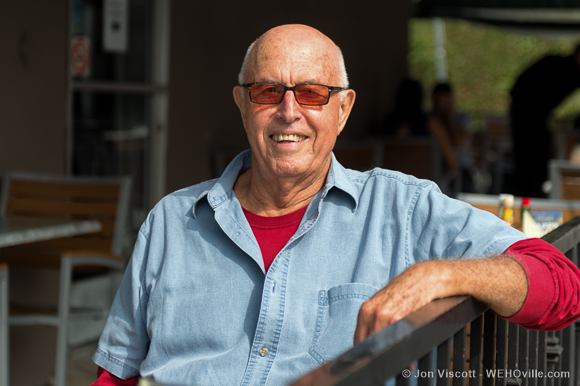 If you're lunching with Phil Gittelman, there's probably no need to ask where he wants to go. For this septuagenarian foodie, Hugo's is the place where everybody knows his name (though they shorten it to "Mr. G."). Gittelman, a personal manager, has dined at Hugo's West Hollywood location, 8401 Santa Monica Blvd. at Kings, almost daily for more than three decades. WEHOville recently asked the culinary enthusiast about what his ideal Saturday in West Hollywood would include (beyond the obvious stop at Hugo's) .
[hr]
5 Questions For Phil:
[hr]
1) Where in West Hollywood are you likely to go for a Saturday brunch or lunch (other than Hugo's!)?
Bossa Nova: Their chicken scaloppine in a pink sauce is a definite must.
Le Petit Four: Their 1/2 chicken on a bed of sautéed cabbage is a sure hit. Eating outside on Sunset Boulevard is always fun.
Cafe D' Etoile: The martinis are great, especially when you use Chopin vodka. Don't miss their lemon basil linguine and jumbo scallops.
Kitchen 24: Yes, it's open 24 hours. Music on the inside is much too loud for me, but their 'home skillet' entree is worth enjoying in the patio.
WeHo Bistro: Love the food. They have included in the menu "the surprise," which is one of the best restaurant menu shticks I have ever seen, and worth consuming.
2) Where in West Hollywood do you like to shop?
Trader Joe's, Pavilions, Gelson's, Whole Foods, Sweet Lady Jane's, Joan's on 3rd, Tito at Atlantic Tire and Auto Service, Target, farmer's markets, Bristol Farms for epicurean delicacies and CVS and Rite Aid for exotic pharmaceuticals.
3) If a friend is coming to visit, what would you recommend he/she do on a Saturday in WeHo?
Breakfast at Hugo's, lunch at Joan's on 3rd, go to Cake Mix and create a signature confection and visit Sunset Plaza area for curios to take home to friends and family.
4) What former WeHo restaurants do you most miss visiting on Saturday? Why?
Mirabelle's. I've known George (Germanides) and his wife since they first opened some 40 years ago. Their excellent food and conversations are gone forever.
The Source. One of West Hollywood's first vegetarian restaurants with homemade soups never again seen in WeHo. If you ordered one bowl of soup you could have a never-ending flow of as much soup as you wanted free of charge.
Aware Inn/The Old World. The trend-setters for early organic meals.
5) OK, we lied about not asking about Hugo's. What is your favorite memory of the restaurant?
Knowing so many generations of the Hugo's family over the past 33 years has been a tremendous joy for me.
But one dinner at Hugo's is etched in my memory. It was so busy that night that "Eves," the waiter, was having dinner in the rear of the dining room. I heard the front door open and a voice said, "Do you have any beer?"
I turned to see who was there and to my surprise it was Paul Newman. The door opened again and in walked the lovely Joanne Woodward. The waiter nearly choked on his food.
It was that moment I realized Hugo's would become a popular haunt for celebrities and luminaries.