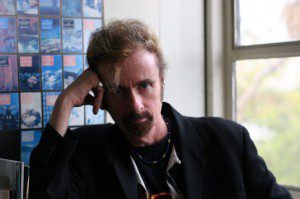 Prolific author T.C. Boyle, just back from a book tour in Austria and Germany, tried to shake off lingering jetlag on Wednesday afternoon. He listened to his party shuffle mix as he dug through a backlog of emails, which had piled up during the two weeks he was gone.
The PEN/Faulkner Award-winner, known for his prowess with language and his fondness for red sneakers, felt ragged from the effects of publishing and promoting five books within five years. Boyle is tired, but he's also pleased. By his side is his own "fat, handsome copy" of  his new short story collection. He's about to go back on the road for a short U.S. book tour to promote "T.C. Boyle Stories II."
Boyle will sell and sign that tome at the West Hollywood Book Fair on Sunday. Paperback copies of his novel "San Miguel" will also be available for purchase at the fair, a free day-long event that includes an array of author panels, presentations and other fare.
"I'll give a great show, I'll make everyone happy and we'll have tremendous fun," said Boyle, resolving to re-adapt to West Coast time before the event.
Boyle's presentation will take place at 12:15 p.m. in the Council Chambers at the library. He said that his appearances usually involve a few jokes, an audience Q&A and a performance of one of his stories.
"I want everyone to remember why we love stories," he said.
Boyle isn't certain which story he'll perform, but it will be one of the 14 new stories from "T.C. Boyle Stories II," which includes new stories and previously published tales.
"It's rich and varied," Boyle said. "It's got 58 different stories in it, and they're in all modes and all kinds. It's great because if you don't like one or you're not in the mood for it, you just turn to the next."
Boyle said that the WeHo book fair seemed like a natural fit because "L.A. is sort of one of my true hometowns." He resided in in Los Angeles for about 14 years before he and his family moved to Santa Barbara 20 years ago.
Having recently finished work on his next novel, "The Harder they Come," which deals with violence in the U.S., Boyle hopes to turn his attention to writing more short stories. When "The Harder They Come" is published, which could be as far away as early 2015, a (hopefully) more rested Boyle will embark on a longer book tour.
For more information about Boyle and his work, go to tcboyle.com.