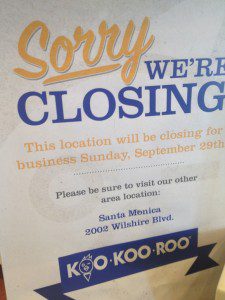 West Hollywood's Koo Koo Roo, one of two remaining chicken bistros in the long-troubled restaurant chain, will close Sunday.
The restaurant, at 8520 Santa Monica Blvd. at Knoll, will make the announcement to customers Friday. The store employs 16 workers, who found out this week they would be losing their jobs.
At one time, the Koo Koo Roo chain, founded in 1988, included more than 30 restaurants with stores throughout Southern California.
In 2003, Koo Koo Roo filed for Chapter 11 bankruptcy and was purchased by Magic Brands, an Austin, Texas company, which closed 10 of the restaurant's remaining 13 locations as part of a bankruptcy reorganization. In 2010, Luby's brought Koo Koo Roo after Magic Brands went bankrupt.
With the WeHo closing, the final Koo Koo Roo is in Santa Monica. According to a source close to the company, it will also close soon.
The contents of the WeHo restaurant, including kitchen items, furniture and signs, will be auctioned off starting Friday, 4 p.m. online.