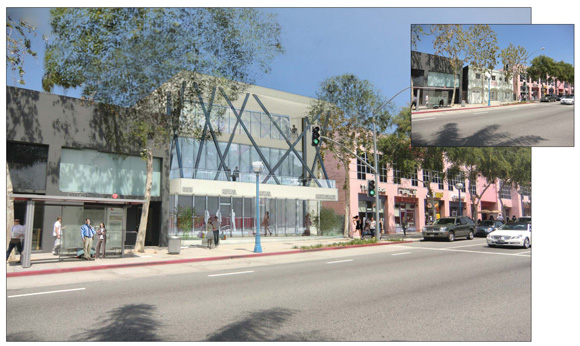 The architect involved in the renovation of the building on Santa Monica Boulevard across from 24 Hour Fitness has finally lifted the tarp that covers it, at least virtually.
A drawing provided by George Kelly, who is working with project developer Fred Roshan, shows a 10-foot recessed patio enclosed by a glass railing on the building's facade. Steel posts extending from the roof canopy down to the second story will give the building a "very light, airy, bird's nest feel," Kelly said.
The project has involved removing half of the building, which is at 8623 Santa Monica Blvd. near Westbourne and adding a third story. It is not clear when construction will be completed. Kelly said the building will be a perfect location for small businesses with four to five employees.