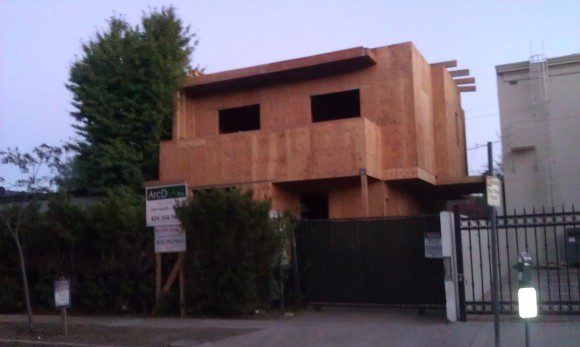 Some West Hollywood West residents are calling for a moratorium on construction of single-family homes until the city comes up with new guidelines for regulating them.
During a neighborhood meeting held Wednesday afternoon, residents of the neighborhood bounded by Melrose Avenue on the north and Beverly Boulevard on the south, between La Cienega Avenue and Doheny Drive, expressed concerns about the number of "big-box"-like homes being built in their neighborhood.
Residents said an estimated 20 single-family homes have been demolished in the past year with two-story, modern-style, tract-like homes replacing them. Some of the 20 attendees at the meeting described the new homes as "big, glass stucco boxes."
"Our biggest concern is the character of the neighborhood," said Bob DeCastro who lives on Ashecroft Avenue. "The concern is that many of [the new houses being built] all look the same."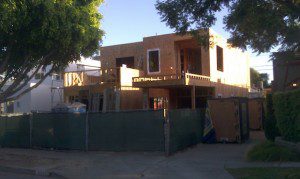 "We don't mind two-story houses going up replacing a dumpy 1920s house. The problem is they're all the same," said Manny Rodriguez, who lives on Dorrington Avenue. "We live in an eclectic neighborhood and these all seem to be the same design. This is a boxy style that isn't bad in and of itself, but there are 20 of them."
One modern, boxy house built a year ago at 8937 Rosewood Ave. near Doheny recently sold for $2.2 million. A quick walking tour of the neighborhood found at least one modern-style home under construction on nearly every block.
While the homes meet the city's zoning regulations, residents complain developers are maximizing size, height and setbacks (amount of space between the property line and the building).
"Developers are exploiting every bit of wiggle room they can," said one resident.
Since buildings under 10,000 square feet don't have to go before the Planning Commission for approval, city staff members are signing off on the plans. Several residents suggested creating a design advisory committee for single-family homes, similar to the Planning Commission's design review subcommittee that provides input and guidance for larger buildings.
Resident Terry Leftgoff, a former West Hollywood West Residents Association board member, said the city initially had an "overlay zone" (which provides specific zoning provisions for specific areas) for their neighborhood, but that it was eliminated with the 2011 implementation of the new General Plan, which guides development in the city.
However, Stephanie Reich, one of the city's urban designers, consulted the city's zoning codes and told WEHOville on Thursday that while provisions for creating overlay zones are in place, none have been created. She said potential for creating them is still part of the General Plan.
One resident suggested creating a historic preservation overlay zone that would add an extra layer of protection for the neighborhood.
Residents also expressed concern about the demolition of the existing homes. While demolition is generally completed in one day, residents complained about the lack of notification about demolition and noise, plus the lack of tenting/fencing to reduce dust, dirt and possible asbestos around the demolition area.
Reich and Kiran Hashmi, deputy to Mayor Abbe Land, told residents they would relay their concerns to the City Council and the city's Planning Department.