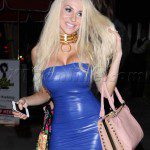 First she's
denied a pole
for a dance at the Abbey. Now she can't get a table — or even in the door — at Bootsy Bellows. Who'd a thunk that in a town full of queens like West Hollywood, WeHo's
Princess Die
would get such treatment?
In an email to WEHOville, the publicist for Courtney Stodden reports that the 18-year-old celebutante, famed for her marriage at 16 to a man 35 years her elder and the resultant reality TV show, was turned away at the door of David Arquette's club on Sunset Boulevard.
"This BULLYING has got to stop," publicist Jim Strzalkowski said in an email to WEHOville. "I was so appalled and hurt by what I witnessed on Friday night outside of David Arquette's nightclub Bootsy Bellows. Courtney Stodden did not deserve to be humiliated by the woman at the front door.
"I have emails from Benjamin Russo, Bootsy Bellows PR rep, confirming Courtney Stodden would be welcomed into the club and be escorted to a VIP area. I spoke on the phone with club manager Mighty Joe on two occasions, two different days last week where he confirmed Courtney Stodden to the VIP guest list. I also have a club RSVP email confirmation that Courtney would be welcomed into the club.
"Very sad that we live in such a vindictive and judgmental society. Courtney is sweet and kind and deserves common decency and respect. This is a public club and all were let in, even if they weren't on the guest list."
Could it have been her cover on "Girls and Corpses" magazine that got her turned away? Inquiring minds want to know.