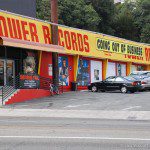 When Jerome Cleary asks the West Hollywood City Council to designate the Tower Records building on Sunset Boulevard as a cultural resource, he'll have nearly 1,300 supporters behind him.
They won't actually appear before the council, which plans to hear Cleary's request on Nov. 4. But their names are present on a petition that Cleary posted two weeks ago on Change.org, an online site for social activists.
The petitioners are from as near as West Hollywood and as far as Australia. Approximately 62 percent of them identify as residents of California. However only 35 of the 1,253 signers on a list Cleary made public Wednesday live in West Hollywood. That small indicator of local support might be significant to members of the City Council, given that Cleary is asking them to override the city Historic Preservation Commission's decision to deny the cultural resource designation.
The commission voted unanimously in April not to designate the Tower Records store, which sits at 8801 Sunset near Horn, as a cultural resource. That decision was based on a City Hall staff report that said the building is not culturally significant under West Hollywood's municipal code and also doesn't meet state and National Register standards for a designation of cultural significance. The report said the building does "not appear to retain sufficient integrity to convey its cultural and social significance and its association with Tower Records." That was a reference to the fact that the store's once distinctive yellow and red facade had been painted over after it closed in 2006 when its parent company declared bankruptcy.
The commission did recommend that the city recognize the cultural significance of the building, which opened in 1970, by installing a sign on the adjacent sidewalk or by designating the intersection at Horn Avenue, Holloway Drive and Sunset as "Tower Records Square." Cleary and Dominic Priore, author of "Riot On Sunset: Rock n' Roll's Last Stand In Hollywood," who started the cultural designation campaign, argue that that won't do justice to the building. They note that it was a major stop for performers such as Elton John, Engelbert Humperdinck, Duran Duran, Aerosmith and Rod Stewart. Axl Rose, lead singer for Guns N' Roses, worked there as a night manager in the early 80's.
For a look at the Tower Records site through the years, click here.