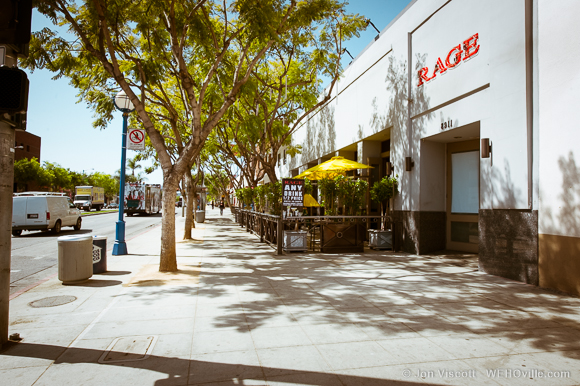 Three new nightspots are set to open in the middle of West Hollywood's enclave of gay-oriented bars, restaurants and shops late this year and into next year. Announcements of the openings generally have been met with praise. But retailers in the so-called Boystown area are beginning to express their worries that a continuing shift to nightlife will hurt their businesses, with some even worrying that the area will lose its gay allure.
They worry the new nightspots, which are replacing daytime businesses, will reduce daytime traffic. Those nightspots, which will be located on the block of Santa Monica Boulevard between San Vicente and Robertson boulevards, are: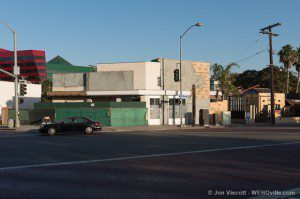 PUMP, a restaurant that will open in the former Java Detour space on the northeast corner of Santa Monica and Robertson boulevards. PUMP is being opened by "Real Housewives of Beverly Hills" TV personality Lisa Vanderpump and her husband, who also own Sur restaurant a block away at 606 Robertson Blvd. — the setting for its own reality TV show called "Vanderpump Rules." Contractors already are remodeling the 1,700-square-foot space and adding 550 square feet of sidewalk dining and a 2,900-square-foot dining patio where the JavaDetour parking lot once was. A late 2013 opening date is projected.
[hr_dotted]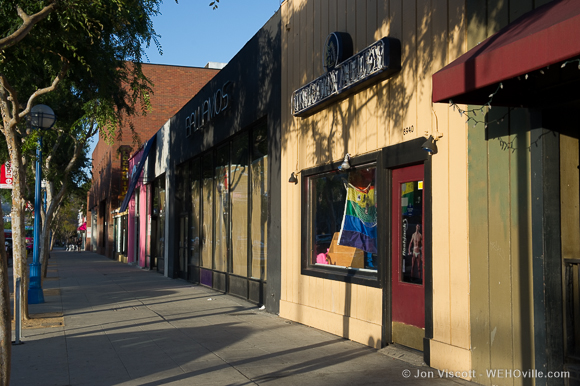 Cooley's, a 9,250-square-foot beer garden and restaurant by David Cooley, founder of The Abbey, which will occupy Balliamos Dance Studio and Raffi's Jewelers locations at 8936-39 Santa Monica. This restaurant will offer dining on the sidewalk and on a terrace behind the building where parking spaces now exist. While the law requires that alcohol sales end at 2 a.m., Cooley's plans to serve food until 4 a.m. Plans were submitted to the city for approval in August, and a mid-2014 opening date is projected.
[hr_dotted]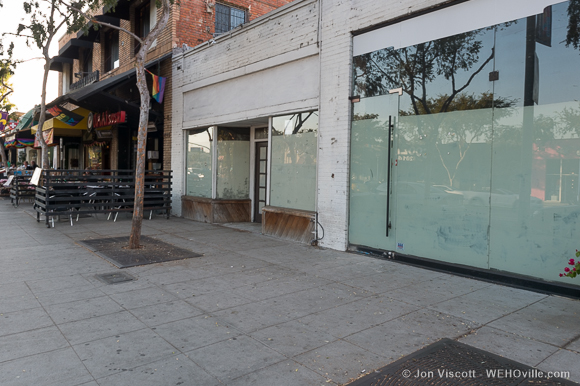 The Horn, a steakhouse featuring wild game, which will open in the space at 8933 Santa Monica Blvd. near San Vicente once occupied by Marvin's Pharmacy. Owners Daniel Cammarata and Adam Klesh plan to add a 1,400-square-foot second story and 400 square feet of terrace to the existing 2,600-square-foot building.
While requests for a building permit haven't been submitted, the Horn has projected it will open this coming fall.
[hr_dotted]
"David Cooley and Lisa Vanderpump are very successful operators who know what they are doing," said City Councilmember Jeffrey Prang, noting that many businesses on the south side of Santa Monica Boulevard haven't lasted long. "They should help to activate the south side of the street. I think the entire area will benefit if these business are successful."
But Richard Grossi, owner of Eleven nightclub and restaurant at 8811 Santa Monica Blvd. at Larrabee, worries about the impact of more nightclubs and fewer daytime establishments like JavaDetour, Marvin's Pharmacy and Raffi's Jewelers. The area will also most likely lose the U.S. post office at 820 San Vicente Blvd. north of Santa Monica.
"Without the retail, what's going to draw people to the area during the day?" he said. "Do we really want to be taking all the retail out of the neighborhood and just have nightlife?"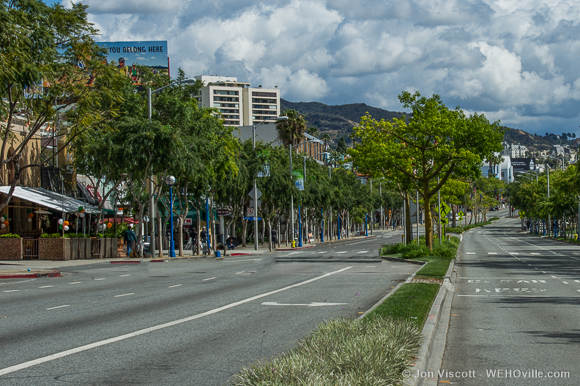 David Fanarof, owner of Z Pizza at 8869 Santa Monica Blvd. at San Vicente, also noted there is little traffic on the sidewalks during the day. "This area can be really dead during the day," he said. "Seventy-five percent of my business comes after dark; even more on weekends."
Larry Block, whose The Block Party clothing store at 8853 Santa Monica Blvd. at Larrabee is open until 2 a.m. to attract nightclub goers, said that aside from U.S. Bank, Citibank and Chasebank and Koontz Hardware, there's already little reason for people to come to Santa Monica Boulevard near San Vicente during the day. More nightclubs and fewer retail shops will reduce daytime foot traffic even more, he said.
"Tourists come in my store during the day asking what there is to do in the area [during the day]," Block said. "Most of the bars and restaurants don't open until 4 or 5 p.m."
Fernando Suncin, floor manager of the Andrew Christian underwear and sportswear shop at 8934 Santa Monica Blvd. near Robertson, suggests that retail stores will have to find creative ways to lure in customers during the day.
"We've been doing half off on our underwear on Tuesday for the past two to three years," Suncin said. "We do as much business on Tuesdays as we do on weekends."
Nir Zilberman, owner of the new ES Collection sportswear shop, formerly known as LA Jock, at 8915 Santa Monica Boulevard, next to Rage nightclub, welcomes the potential extra nighttime customers the new restaurants will bring.
"[LA Jock] was the first [retail] store in that area that started staying open late, back in 2006," Zilberman said. "People go out clubbing and dancing and afterwards, they come in shopping. Our business between midnight and 2 a.m. is huge."
Block Party also stays open until 2 a.m., but its customers aren't buying clothes or gay souvenirs, Block said.
"After midnight, what we sell is cigarettes, condoms and lube," he said.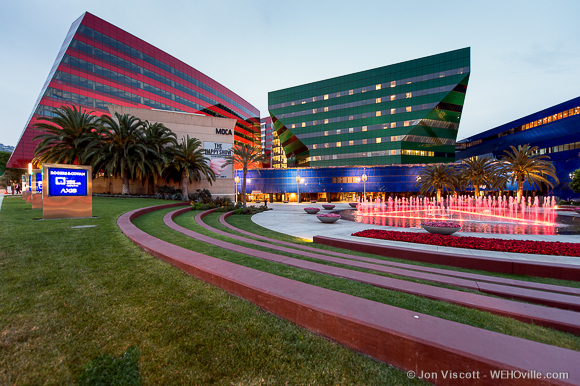 Cooley argues that the Pacific Design Center's Red building is a likely source for daytime customers. "The Pacific Design Center is about to bring online tens of thousands of square feet of office space," Cooley said. "All those people need to eat lunch somewhere."
The Red building has been slow to attract tenants however as furniture wholesalers have increasingly moved to locations such as the south end of La Cienega Boulevard where they can more easily attract retail as well as wholesale customers. The PDC has announced that it will now focus on attracting "creative businesses" as tenants.
Grossi points to Santa Monica as a model the City of West Hollywood should look at. He said its Third Street Promenade offers a good balance of retail shops and restaurants so the area has traffic during the day and night.
"We really need to strengthen the retail aspect of the neighborhood; retail has suffered in recent years," Grossi said. "My suggestion is to bring a retail consultant in to look at the spaces and work with landlords to get desirable retail tenants."
Fanarof agrees the city needs to actively work on getting a greater diversity of businesses into the area. "You've got to have a mix," he said. "It can't just be all nighttime entertainment."
Grossi said he's also concerned about the timing of the openings of the three nightspots.
"I think it's too much at one time," he said. "I don't know that the gay community can support all these restaurants, and if they can't, [the restaurants] will start going after a different market."
Another underlying concern is that the addition of more upscale nightlife venues is going to gentrify the area and reduce its standing as Boystown  — a district where gay men come to meet and be entertained.
Block noted the dramatic transformation of New York City's Greenwich Village over several decades from a gay enclave to an area where rising rents pushed out young gay people to be replaced by wealthy investment bankers and their families. The same transition currently is underway in New York's Chelsea neighborhood.
"Is Boystown just going to be a block long area between San Vicente and Larrabee?" he asked. "Don't let this area turn into another Greenwich Village."
Cooley, whose Abbey restaurant and bar is a popular gay attraction that draws an increasingly large heterosexual audience, thinks rainbow flags will continue to fly even if there are more baby strollers on Santa Monica Boulevard sidewalks.
"West Hollywood has always been a diverse community," he said. "Gay, straight, bisexual and everything in between should be welcome at every business. Bringing more people into our neighborhood is a good thing."
"When I opened (the Abbey as a coffeeshop) on Robertson nearly 25 years ago, everybody said I was crazy because nothing was there," he said. "Today, Robertson Boulevard is one of the most recognized retail and nightlife districts in the country. West Hollywood businesses are thriving, and the community is continuing to evolve."
Dean Wilson, who has been at Koontz Hardware at 8914 Santa Monica Blvd. at San Vicente for 35 years and now is general manager, isn't especially worried either. "Lots of businesses have come and gone over the years," he said. "We're committed to the neighborhood. Whatever is good for the neighborhood is good for us."