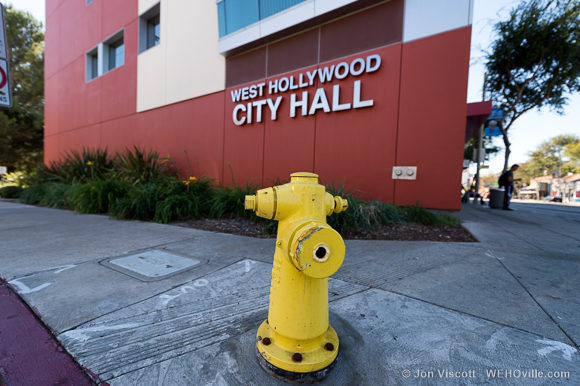 The West Hollywood City Council approved Monday a $400,000 contract with Bakersfield-based Griffith Company construction firm for widening Sweetzer Avenue near City Hall in anticipation of construction of the automated "robo" parking garage.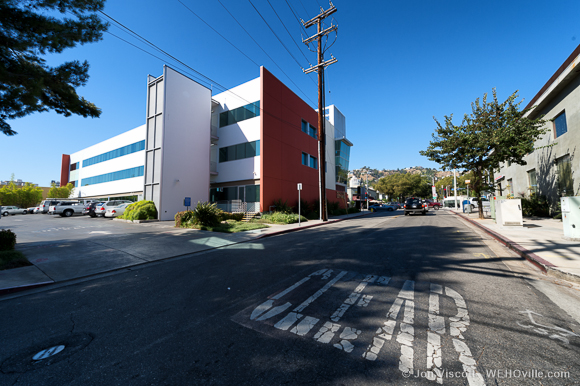 Under terms of the contract, Sweetzer Avenue will be widened by four feet from Santa Monica Boulevard south to the end of the City Hall parking lot, at 8300 Santa Monica Blvd. A left turn lane onto Santa Monica Boulevard will be created for northbound traffic on Sweetzer.
At the same time, power poles will be removed from the sidewalk and utility lines transferred underground. The fire hydrant on the west side of Sweetzer at City Hall will also be moved 10 feet south. That fire hydrant has been hit frequently by cars turning onto Sweetzer, causing a cascade of water gushing 30 feet or higher.
The widening project is scheduled to start in November and be completed by March. The City Hall parking lot will remain open during the first part of this project. However, the parking lot is scheduled to close in January when work on the new $16 million "robo-garage" begins.
Once the parking lot closes, City Hall visitors will have to use the Kings Road parking deck two blocks away on the northeast corner of Santa Monica Boulevard and Kings Road.
The widening of Sweetzer and construction of the "robo-garage" is being paid for via bonds that the city issued in August.