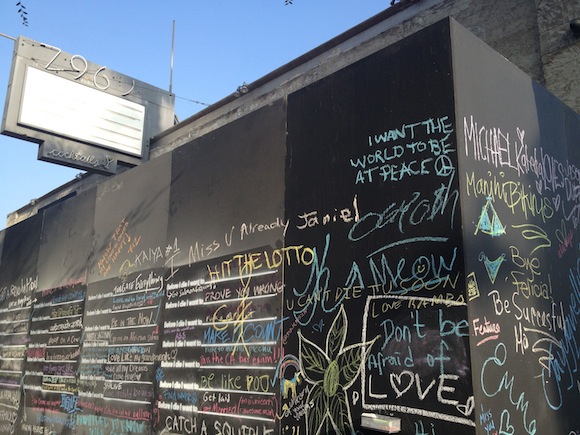 As the S&M-themed nightclub Voyeur, the space at 7969 Santa Monica Blvd. at Edinburgh once featured topless dancers and simulated lesbian sex for an audience that sometimes included notables such as Lindsay Lohan and, more scandalously, a Republican party consultant who sent the GOP a bill for $1,900.
Ditching the seedy past, owner Cardiff Giant, which took over the venue's lease in August 2012, is going the artistic route as it reopens the nightclub on Nov. 7 and invites "guest curators" to reconfigure the space seasonally.
According to a press release from Cardiff Giant, which also owns WeHo's The Hudson, the nightclub will be called "DBA" (Doing Business As), and will be a "space brought alive by the artists and personalities inhabiting it each season. Blurring the lines between art and commerce, the venue is designed to function as cabaret, dance club and interactive gallery space."
The large one-room space, dubbed a "white canvas," will host "guest curators" who will have a wide berth to design a temporary look and concept for the space, according to DBA publicist Edward Allen. The artistic-types who will be invited to "curate" might range from movie directors to visual artists to musicians.
Each curator will have creative control to rearrange, decorate and otherwise reconfigure the space. They'll give the venue an "exhibition name" — so DBA will be "doing business as" the club or exhibit name a curator selects — and they could incorporate elements ranging from physical art installations to live musical performances (as the space has a cabaret license). Curators can even outfit the staff with costumes.
There's no word yet on who DBA's first curators will be, but Allen said there will be an announcement in coming weeks.
In addition to its nightclub, the space will reportedly serve as a filming location, a venue for private events and an art gallery (on its non-clubbing nights).
DBA's artsy spirit is already showing with its giant outdoor public art display. A chalkboard invites people to finish the sentence "Before I die, I want to _________."
For DBA, apparently, the full sentence is "envision a space where art, culture, music and lifestyle converge."