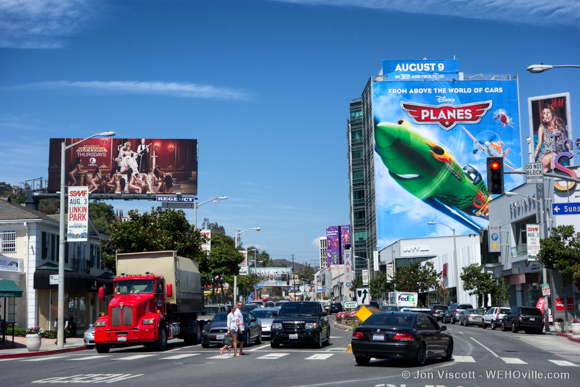 Drake Kennedy, part owner of West Hollywood's Regency Outdoor Advertising, a major advertiser in the city with billboards spread along the lucrative Sunset Strip, is suing his brother Brian Kennedy claiming he committed breach of fiduciary duty, fraudulent concealment and involuntary dissolution of the company.
In Drake's complaint, filed Sept. 25 in Los Angeles Superior Court, he asks for a jury trial, describing how, in recent years, the business relationship with his brother has deteriorated.
Drake calls the "most egregious" action on the part of his brother a secret deal with a senior manager at Regency to transfer ownership of one of the company's "crown jewel" properties on the Sunset Strip at Sunset Boulevard and Queens Road, site of four of Regency's most valuable billboards, to a separate company in which Drake has no ownership interest.
In the past year, Drake claims his brother undertook in the activities while he knew Drake was ill from cancer, a fractured hip and heart attack.
"In a word, Brian literally stole this multimillion dollar property from … Drake," the lawsuit says.
Drake claims his brother deprived him of access to information for Regency and its six other outdoor advertising companies. He also claims to have recently discovered the balance in one of the companies' bank accounts is several million dollars less than it should be. Drake says he is "informed and believes that Brian has been diverting revenue due the companies into bank accounts that Brian alone owns and controls."
Drake is asking for compensatory damages, punitive damages, inspection of the company's books and records and an involuntary dissolution order requiring the companies' assets be sold to a third-party.
The brothers, who run Regency from an office at 8820 Sunset Blvd. across from the Tower Records site, are infamous in Los Angeles for filing lawsuits claiming 1st Amendment rights and donating hundreds of thousands of dollars to causes of politicians.
While Regency has been involved in a number of controversial scenarios throughout Los Angeles, which were documented in a 2005 Los Angeles Times story, a number of its battles have been waged in WeHo.
Former deputy city manager Joan English has claimed she caught Brian Kennedy attempting to construct a 40-foot billboard at Sunset Boulevard and Queens Road without a permit on New Year's Eve 2004. According to an LA Times story, Kennedy picked a day City Hall was closed and had a canvas draped over a fence to conceal what he was doing.
Ignoring English's demand that his crew stop work, Kennedy only stopped once LA County Sheriff's Department deputies showed up. Kennedy later took the city to court.
Former West Hollywood Councilmember Steve Martin has claimed an alleged $10,000 bribe was offered to him in February 2003 by a former city planning commissioner on behalf of Brian Kennedy, who wanted him to vote against a Regency competitor's request for city permission to maintain ads on the side of a building on Beverly Boulevard.
Furthermore, according to the LA Times, as of 2005 West Hollywood was trying to figure out who was illegally and often radically trimming trees along the Sunset Strip in the middle of the night. The story notes 27 of the 43 trimmed trees were in front of Regency signs.
Most recently, an anticipated battle between Regency and competing billboard company Ace Outdoor Advertising over a "tall wall" on the west facing wall of the building at 8730 Sunset Blvd. near Sherbourne has not yet materialized as West Hollywood's City Council has indefinitely postponed hearing the item.
Regency is appealing the Planning Commission's decision to approve expanding the tall wall, which is contracted to Ace. Many residents received robo-calls from Regency prior to the April 6 council meeting concerning the tall wall.
In September, WeHo's City Council approved a new v-shaped billboard atop the Grafton Hotel despite threats of a lawsuit from Regency. Regency originally filed the application for the billboard on behalf of the Grafton, but later became embroiled in a bitter dispute with the hotel and requested to remove its application. The City Council still approved the application because the Grafton wanted to continue with construction.